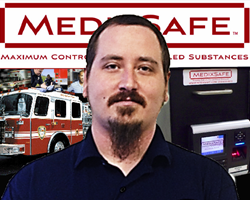 Keys or PIN numbers alone are no longer enough to ensure security and accountability for emergency narcotics access
Memphis, TN (PRWEB) January 31, 2015
January 26, 2015 MedixSafe announced the appointment of Josh King as Manager of Production and Development. King brings 15 years' experience in the electronic security industry.
MedixSafe has been producing hi-tech narcotics cabinets since 2009 when a fire commissioner requested a more secure solution for narcotics storage. The M1 was built to meet those specifications. The MedixSafe M1 is the ambulance trade's first, simplest dual access security solution, incorporating both proximity card readers and PIN pads.
MedixSafe has experienced continuous grow and now produces 6 different sizes with multiple access choices. The M-Series is the smallest with dimensions - 12″W x 14″H x 16″D. The S-Series is the largest with dimensions – 40"W x 48"H x 29.5"D.
MedixSafe narcotics lockers are the most technologically advanced narcotic safes on the market. They are equipped with a stand-alone networkable TCP/IP based controller and designed to require combinations of fingerprint, PIN and/or Proximity Cards to gain access.
Their newest reader allows MedixSafe to store up to 200,000 users and a 1,000,000 event activity log. They can also connect directly to a wireless communication device at 100 Mbps which allows them to have fingerprint additions/deletions and user activity uploaded/downloaded without having to go directly to the ambulance. Plus inventory tracking and real time email notifications so administrators can now know instantly when the MedixSafe is accessed. Administrators can now see who accessed the MedixSafe and what they took for total accountability. Hard wiring to an existing network for additional office/storage locations is also an option.
Keys or PIN numbers alone are no longer enough to ensure security and accountability for emergency narcotics access. Across the country and the globe, controlled substance inventory loss is having a critical impact on patient care, staff integrity, liability, and the bottom line. This has led to new regulatory demands for an access audit trail – the MedixSafe not only enforces authorized access, it tracks access for unprecedented accountability. MedixSafe offers unique, field-tested security technologies to meet those demands.
For more information contact MedixSafe online at medixsafe.com or call toll-free 855-MEDIXSAFE