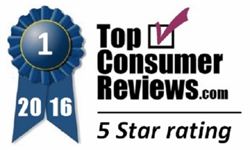 Test Country is one of the most reputable online providers of Drug Tests on the market... (they earn) our top rating for Drug Test Companies in 2016.
Overland Park, KS (PRWEB) July 05, 2016
TopConsumerReviews.com recently awarded their highest five-star rating to Test Country, an industry leader in providers of Drug Tests.
From large corporations needing to screen its employees for drug use due to liability reasons, to parents who want to make sure that their child isn't abusing illegal substances, drug testing has become a commonplace part of life for many people. While big businesses have access to bulk discounts for tests that can often be expensive, smaller companies and individuals can take advantage of a number of online providers of drug tests that are effective and affordable.
"Test Country is one of the most reputable online providers of Drug Tests on the market," explained Brian Dolezal, of TopConsumerReviews.com, LLC. "Besides traditional drug tests, Test Country also offers testing for lead, asbestos, pregnancy and fertility, and DNA. Their website is incredibly easy to use, and pricing is extremely competitive, with a basic test for street drugs costing under six dollars and discounts for ordering drug tests in bulk. Test Country earns our top ranking for Drug Test Companies in 2016."
To find out more about Test Country and other providers of Drug Tests, including reviews and comparison rankings, please visit the Drug Tests category of TopConsumerReviews.com at http://www.topconsumerreviews.com/drug-tests/.
About Test Country
Test Country was founded in 2001 to develop direct-to-patient technology-based solutions to address one of the most pressing issues in healthcare today; the inability of consumers to obtain fast, convenient and confidential information about their health via instant or convenient lab based testing solutions. From parents seeking to discreetly test a child for substance abuse to employers wishing to perform drug screening on your employees, Test Country provides the same reliability as lab tests. The company is a proud member of the Drug and Industry Association, the San Diego Better Business Bureau, and the Community Anti-Drug Coalitions of America.
About TopConsumerReviews.com
TopConsumerReviews.com, LLC is a leading provider of independent reviews and rankings of hundreds of consumer products and services. From Drug Tests to Identity Theft Protection and Medical Alert Systems, TopConsumerReviews.com delivers in-depth product evaluations in order to make purchasing decisions easier.