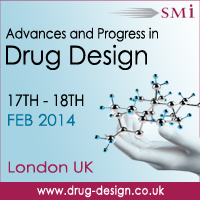 "Very good interactive meeting, overall excellent," - Sanofi
London, UK (PRWEB UK) 1 October 2013
Advances and Progress in Drug Design will focus on new approaches and will offer attendees the chance to hear from leading industry experts on lead optimisation strategies, Structure Based Drug Design (SBDD) and Fragment Based Drug Design (FBDD).
Past events have received positive feedback from the industry, including 'Well selected talks, stimulating atmosphere' – Sanofi, 'Very good interactive meeting, overall excellent' – Pfizer and 'a very good meeting – right number of people' - AstraZeneca
The 13th instalment in the Drug Design conference series will build upon the reputation and success of previous events and bring together a unique mix of senior executives from all over the industry and academia for problem-solving, discussion and debate.
The conference will aim to:

Understand pharma's current and future drug design strategies and highlight the challenges the industry is currently facing
Explore the latest approaches in structure-based drug design
Evaluate lead optimisation strategies
Consider the latest in fragment based drug discovery as the future of drug design
Linking HTS and FBDD - examining alternative approaches in drug discovery
Hold two post conference interactive workshops hosted by Vernalis on New Approaches in 'Fragment Based Approach to Lead Discovery', and the 2nd hosted by The Research Network on 'Chemically Modified Biologicals'
Peer to peer networking with two morning coffee breaks, two networking lunches, two afternoon tea sessions and a networking drinks reception hosted by Chemical Computing Group on end of day one.
Key Speakers for 2014 include:
John Mathias, Head of Medicinal Chemistry - Inflammation & Remodelling, Pfizer
Sudharsan Sridharan, Scientist, MedImmune
Tom Heightman, Senior Director, Astex Pharmaceuticals
Amaury Ernesto Fernandez-Montalvan, Lab Head, High Throughput Screening, Bayer HealthCare Pharmaceuticals
Karl-Heinz Baringhaus, Head of R&D, Sanofi-Aventis
Andreas Kuglstatter, Head of Protein Crystallography, Roche Chemische Unternehmungen AG
Dr Neil Press, Director, Novartis
Paul Labute, CEO, Chemical Computing Group
Andrea Bortolato, Senior Computational Chemistry, Heptares Therapeutics
Paul Brennan, Group Head/PI, Nuffield Department of Medicine
13th Annual Advances and Progress in Drug Design
Delivering practical solutions to drug discovery challenges.
17-18 February, 2014,
Marriott Regents Park Hotel, London UK
For further information, visit http://www.smi-online.co.uk/goto/2014drugdesign5.asp