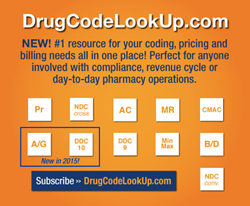 "We are excited to announce this new site, especially since it's the only web-based, comprehensive coding and pricing guide for HCPCS drug codes."
St. Paul, MN (PRWEB) September 28, 2015
Panacea Healthcare Solutions, Inc., in partnership with RJ Health Systems International, LLC, is pleased to announce that MedLearnDrugCodes.com is now DrugCodeLookUp.com.
With DrugCodeLookUp.com, healthcare professionals involved with compliance, revenue cycle or day-to-day pharmacy operations can easily find essential drug coding, pricing and billing information. Also newly available is a crosswalk tool that links ICD-10-CM codes to HCPCS/CPT® codes, which is a must-have with the October 1, 2015, implementation of the ICD-10 coding system.
The new site provides:
•New and revised codes, plus drugs without assigned codes and NOC (not otherwise classified) codes
•Codes deleted since 2000, along with references to replacement codes, if established
•Verification of compliance with national drug code (NDC) reporting requirements stipulated by Medicaid and other third-party payers
•Validation of hospital outpatient billing information, such as APC codes, status indicators, APC rates and crosswalks to recommended administration codes
•Pricing information, including AWP- and WAC-based calculations and Medicare-allowable ASP, to verify agreement with payer fee schedules
•Coding crosswalks, encompassing more than 23,000 products, from NDCs and diagnosis codes (ICD-9-CM and ICD-10-CM) to HCPCS/CPT codes
•Access to all HCPCS and CPT drug codes, with corresponding descriptions, as established by the CMS and AMA
•Billing guidance that addresses the use of CMS 1500 and UB-04 forms, plus Medicare Part B vs. Part D
•Monthly updates related to new drug pricing or clinical information
"We are excited to announce this new site, especially since it's the only web-based, comprehensive coding and pricing guide for HCPCS drug codes," states Mike Rogge, President of Panacea Healthcare Solutions. "This is a comprehensive site that alleviates the need to search multiple sources and will ease the transition to ICD-10," Mr. Rogge added.
For more information, visit http://www.drugcodelookup.com.
###
About Panacea Healthcare Solutions, Inc.
Panacea Healthcare Solutions, Inc. provides coding, compliance, reimbursement and revenue solutions through consulting, software, publications and webcasts. Panacea provides the most comprehensive coding, compliance, and reimbursement resources, tools and services for hospital based pharmacy departments. All of Panacea's products and services are driven by specialized in-house consulting teams with unparalleled experience and credentials. For more information on Panacea, please visit: http://www.panaceainc.com.
About RJ Health Systems International, LLC
RJ Health Systems, founded in 1983, provides useable, unbiased, verified drug intelligence that improves medical pharmacy trend management. RJ Health Systems has a collection of databases and services that provide clients help to ensure specialty pharmacy claims are priced and processed appropriately. Physicians, insurers, and pharmaceutical companies choose RJ Health Systems because they value the direct access to knowledgeable staff including pharmacists, pharmacy technicians, and nurses. RJ Health Systems also provides consulting services and SaaS products that help identify cost savings opportunities as well as guide customers with appropriate coding, billing, and utilization of drug therapies. RJ Health Systems is located in Rocky Hill, Connecticut. For more information, please visit http://www.rjhealthsystems.com or contact info(at)rjhealthsystems(dot)com.