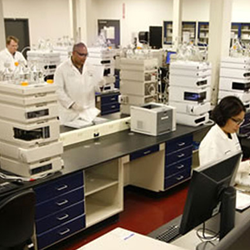 Early characterization can keep potential patients safe and your drug candidate on track through the approval process.
Morton Grove, IL (PRWEB) August 31, 2015
Regulatory agencies have acknowledged impurities especially potential genotoxic impurities (PGIs), as a high priority in the drug development approval process. Thus, innovator companies must understand what will be needed in the drug development process.
This year, Regis Technologies, Inc., a Chicago-based CMO, has been hosting multiple educational panels and seminars for experts to share advice concerning impurities. Here, Regis offers a collection of that advice to expedite small molecule drugs to market.
Impurities impact not only the safety of drugs, but also the development time, if not addressed early during the scale-up process. According to Andy Miles, Regis's Business Development Director of Pharmaceutical Services, "Understanding the synthesis and degradation-related impurities in your drug substance is critical. Early characterization can keep potential patients safe, and your drug candidate on track through the approval process."
As the pipeline proceeds, many smaller companies need to partner with a CMO for expertise and resources. In one seminar, process development expert, Dr. Neal G. Anderson, discusses ways to control impurities and prevent key issues in the scale-up process (watch the seminar). Ultimately, he urges attendees to seek advice from experts, especially with toxicology issues and unknown impurities that show up during the drug development process.
Regis works with pharmaceutical and biotechnology companies looking to advance their small molecule drug to clinic, and ultimately to market. Their Pharma Services team, comprised of Analytical Method Development and Process Research, focuses its efforts on a complete impurity services program: isolation, characterization, synthesis, and qualification. Thought leaders from the team describe the services below.
Impurity Isolation: Chromatographic tools such as Supercritical Fluid Chromatography, Automated Flash Chromatography, preparative LC, and preparative TLC can aid in isolation of unknown or trace impurities in a mixture, for purposes of structural elucidation, to use as a reference standard, or assay. These same tools can also purify compounds and low level impurities.
Characterization: It is also necessary to characterize all potential impurities and degradation productions present in the API or drug product. This requires a dedicated analytical method development team with chromatographic tools such as LC/MS, GC/MS, FTIR, NMR, High Resolution Mass Spectroscopy, and elemental analysis. The data obtained from this step can be used to help with toxicology studies and guide CMC development of the API.
In another of the impurity seminars, Regis' Director of Analytical Method Development, Paul Wrezel, Ph.D., advises, "A good analytical package prepared in advance makes [the CMC process] go easier." Dr. Wrezel recommends an analytical package for regulatory submission to include purity/impurity data, lot history and comparisons, reference/standard information, and stability data among others. For the full list and more about regulatory guidelines on impurities, view the seminar.
Synthesis: The Process Research team performs multi-step syntheses to make reference standards. Once the impurity is fully characterized, Regis can scale-up to make standard for future analytical analysis.
Qualification: Finally, a qualified reference standard of the highest purity material will be needed to move forward. Regis can do qualification and issue a cGMP Certificate of Analysis (COA) on a synthesized impurity for a reference standard.
Regis places great emphasis on expediting safe, pure drugs to market. For more information on impurities and Regis' as a proven provider in drug development, visit their website.