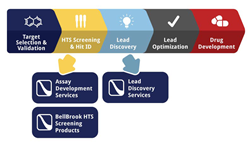 Madison, Wisconsin (PRWEB) February 23, 2017
BellBrook Labs is formalizing a significant expansion of their Drug Discovery Services portfolio to include an array of biochemical analyses critical for Lead Discovery. The company's Lead Discovery Services will provide clients with reliable data to drive their hit-to-lead and SAR programs, including inhibitor potency and selectivity, mechanism of action, and inhibitor residence times on drug targets ranging from established candidates such as kinases and phosphodiesterases to emerging targets like methyltransferases, ligases/synthetases, ATPases, and GTPases.
BellBrook's Transcreener® HTS assay platform is ideally suited for the detailed biochemical and kinetic analyses required for hit-to-lead programs. Transcreener® is an extensively validated HTS platform that produces robust FP, TR-FRET and FI signals for nucleotides produced by enzymes; e.g. ADP for kinases. It has been used to screen tens of millions of wells over the last ten years in pharma and biotech labs.
Because they use direct immunodetection of nucleotides, Transcreener® assays can provide more reliable results than alternative methods that rely on more complicated schemes involving coupling enzymes. In addition, the ability to run Transcreener® assays in continuous mode enables analysis of inhibitor binding kinetics such as residence time, which is increasingly recognized as an important factor for drug efficacy. Additional assay methods will be employed as needed to meet customer needs.
About BellBrook Labs
BellBrook Labs, LLC provides assay development and lead discovery services and develops detection reagents that accelerate the discovery of more effective therapies for cancer and other debilitating diseases. Transcreener® is a universal, high throughput biochemical assay platform based on detection of nucleotides, including ADP, GDP, AMP, GMP and UDP which are formed by thousands of cellular enzymes, many of which catalyze the covalent regulatory reactions that are central to cell signaling and represent new opportunities for therapeutic intervention.