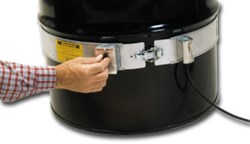 It isn't very often that we pick drum equipment as product of the day. Having the value drum heater as product of the day is a special treat
New York, New York (PRWEB) September 11, 2013
It is time for A Plus Warehouse to discuss its product of the day. Today's product of the day is an item that can easily be missed at first glance. It is buried deep in the website. A Plus Warehouse feels that this item deserves more attention. That is why the company is making it product of the day. Today's product of the day is the value drum heater. According to Ed Stairman, president of A Plus Warehouse, "It isn't very often that we pick drum equipment as product of the day. Having the value drum heater as product of the day is a special treat."
As Ed mentioned, A Plus Warehouse doesn't discuss drum equipment very often. It is now time to catch up on lost time! Under the drum handling equipment section lays 5 different subsections. The drum handling equipment section comprises of drum pumps, drum grabbers, drum lifters, drum heaters, and miscellaneous drum equipment. A customer may ask about drum handlers. A drum handler is a piece of equipment that handles drums. It seems fairly self-explanatory. Drum equipment is used so companies do not need to lift drums by hand. A Plus Warehouse has been selling drum equipment for years. They are a trusted source for the distribution of these products. A Plus Warehouse distributes well-known names such as Wesco, Vestil, and Morse. Today's product of the day falls under the drum heater subsection of the drum handling equipment section.
Many facilities need drum heaters, and A Plus Warehouse is proud to offer them. Drum heaters are used to maintain chemical viscosity. This is the main purpose of the item, and is extremely important. It should also be mentioned that drum heaters are not for flammable liquids. In that case, it is obviously extremely dangerous to put flammable liquids in there. For safety customers should also put the drum heater below the level of liquid. At A Plus Warehouse safety is always first. The company wants customers to be safe.
It is time to discuss the value drum heater. This drum heater used 1250 watts, which is 25% more powerful than any heater in the class. It is a great value. It also features a rugged 24 GA aluminized steel constructed band. The product is also features easy-to-use clamping device. Customers should consider ordering this product today.
A Plus Warehouse is the operator of http://www.apluswhs.com and distributes materials handling and storage equipment nationwide and throughout Canada. The sales staff at A Plus Warehouse is available at 800-209-8798. A Plus Warehouse has been in constant operation since 1996.