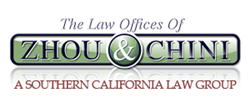 Get the legal defense you need in Riverside, call our law firm today, 951-200-3360
Riverside, California (PRWEB) August 26, 2013
A very well established law firm in Southern California Zhou & Chini is looking to further their client base by adding DUI defense in Riverside CA. The firm is mostly known for their many bankruptcy cases that they have filed for local residents. Because of the firm's stellar reputation, they decided to add more practices of law to further assist Southern California residents in need of legal representation. A drunk driving arrest is a serious offense and carries tough penalties and fines. Most experts agree that when facing any criminal charges it is best to have a criminal defense attorney on one's side. The firms new DUI website has all the information needed to know about DUI defense, from the different laws and penalties, as well as information regarding a DMV Hearing for a Riverside arrest. To learn more about a drunk driving arrest, or to speak with a defense attorney from the firm visit, http://www.duilawyerriversideca.com/
The law office of Zhou and Chini are launching their new line of practice because they believe the city needs more affordable experienced criminal defense attorneys. With years behind them in the court room, the firm believes they can be a valuable asset to anyone who wishes to retain them. The Riverside lawyers work on all cases, not paralegals, and are always available to their clients 7 days a week. The law office knows they have an advantage on other firms because of their dedication to their client's needs. A criminal arrest of any kind can be tough to deal with, and the lawyers at the firm do their best to produce the best possible outcome for their client's. To discover the different legal options available for a DUI arrest, or to talk with an attorney regarding any legal issue call, 951-200-3360.
The top local SEO company is used in promoting the message about the importance of speaking with an experienced DUI attorney in Riverside California if someone is facing criminal charges. The law office continues its online presence by offering no cost consultations and information on criminal defense on the firm's blog and social media pages. By offering this information online, along with free consultations the firm hopes to attract more local residents looking to retain an attorney. To learn more about the law firm visit the company website.
About the Firm: The Law Office of Zhou & Chini servicing the cities and counties of California. He is a graduate of UCLA and has been practicing law since 1999. Mr. Zhou has a wealth of experience in bankruptcy, civil litigation, family law, criminal law and unlawful detainers. Zhou and Chini Law Offices provide bankruptcy assistance to Riverside, Los Angeles, Riverside and San Diego residents. For more information about an immigration attorney in Riverside, contact the firm.
Contact: James Zhou
info(at)duilawyerriversideca(dot)com
Phone: 951-200-3360