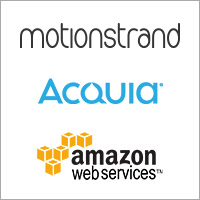 Motionstrand is one of our strongest west coast partners. Working with Motionstrand is a seamless process with expert strategy and execution. Partners like Motionstrand have allowed Acquia to grow rapidly to where we are today and beyond.
SAN DIEGO, CA (PRWEB) October 15, 2015
Motionstrand, a San Diego based digital agency, was recently named Acquia's partner of the month. Acquia has emerged as the enterprise industry standard for integrating Drupal sites within the highly redundant AWS platform. Acquia provides a top tier platform for partners who require an open sources scalable CMS solution.
Motionstrand is a Drupal and AWS partner agency that provides digital solutions for Fortune 100 brands. They have been responsible for the migration of several Marketing and IT infrastructures to AWS services – mostly all leveraging the OS Drupal CMS platform. Motionstrand has worked with Acquia for more than 4 years and is honored to be recognized.
A representative from Acquia said Motionstrand is one of their strongest west coast partners and that working with Motionstrand is "a seamless process with expert strategy and execution." She went on to say that partners like Motionstrand "have allowed Acquia to grow rapidly to where we are today and beyond."
Motionstrand has been at the forefront of Drupal development. Drupal continues to be one of the most advanced OS CMS platforms on the market. It has remained Motionstrand's first choices for web development because of its capabilities and ease of use. Mike Esani, Director of Development and Partner at Motionstrand was quoted saying, "Our dev team is very excited about Drupal 8 and its new features. By adopting more modern object oriented code practices and the latest php standards Drupal will remain the leading open source CMS for the constantly evolving 'Internet Of Things.'" Motionstrand has been a passionate participant within the Drupal community for over 8 years and has helped dramatically in the adoption and proliferation of the platform. Today, Motionstrand promotes the platform to an international client base.
More about Acquia:
Acquia is the digital experience company. Intuit, Warner Music Group and Stanford University are among the more than 4,000 organizations that are transforming their digital businesses with Acquia's open cloud platform. Global 2000 enterprises, government agencies and NGOs rely on Acquia to create new revenue streams, lower costs, and engage audiences more deeply through content, community, commerce and context.
More about Motionstrand:
Motionstrand is a California based digital agency combined with an in-house production staff. They deliver a single source solution for strategy, design concept, and full production. Motionstrand's ability to formulate innovative strategy, create progressive design concepts, and follow through with full deployment has assisted clients in building brand presence and in reaching growth objectives.