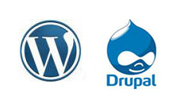 (PRWEB) February 17, 2015
Threehosts.com released the comparison chart of the two popular Content Management Systems of Drupal and WordPress. A side-by-side comparison of these platforms is available on WordPress vs Drupal 2015. Two collections of live websites created with each program are also available on WordPress Website Examples and Drupal Website Examples.
WordPress is a web software that users can use to create a professional website or blog. The latest stable release of WordPress (Version 4.1) is available on their official website. It is a state-of-the-art semantic personal publishing platform with a focus on aesthetics, web standards, and usability. WordPress is based on PHP and MySQL. WordPress started as just a blogging system, but has evolved to be used as full content management system and so much more through the thousands of plugins, widgets, and themes now available. WordPress users can install and switch between themes. Themes allow users to change the look of a WordPress website without altering the information content. WordPress is a state-of-the-art semantic personal publishing platform with a focus on aesthetics, web standards, and usability. It supports multiple users, categories, comments, bookmarklets, RSS syndication, several APIs, weblogs.com ping, and more.
Drupal is a scalable, open platform for online presence. It's created and supported by a diverse community of people around the world. This platform is written in PHP and requires a MySQL database. Drupal provides deep capabilities and endless flexibility on the web. The standard release of Drupal, known as Drupal core, contains basic features. There are more than 30,000 free add-ons, known as modules, available to customize Drupal's behavior and appearance. Although Drupal offers a sophisticated programming interface for skilled designers, basic Web site administration of the framework requires no programming skills. Drupal offers a unique approach to CMS software in comparison to other products.
About Threehosts.com – Threehosts.com is a well-known resource for web hosting reviews. They recently provided their latest reviews of the two popular web hosting providers of Bluehost and Godaddy on Bluehost vs Godaddy 2015. Their experts have been evaluating web hosting services for years, and now they present the information in an easy to understand format that helps users make the best choice when choosing a proper web host for their websites, including simple personal sites, forums, blogs, social networks and online stores.