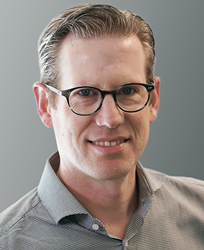 Using PathFactory, we are removing friction in the buyer's journey and enhancing our business intelligence process with a new class of data.
TORONTO (PRWEB) December 19, 2019
Today PathFactory announced that Druva, the leader in Cloud Data Protection and Management, selected PathFactory to accelerate lead nurturing and reduce marketing friction. The company's chief marketing officer, Thomas Been, implemented PathFactory as a critical piece of his team's marketing technology stack shortly after joining Druva.
"As Druva's new CMO, I need to implement technologies that help our team work smarter, optimize the performance of existing investments and assets, and support Druva's ambitious goals for growth," Been said. "Using PathFactory, we are removing friction in the buyer's journey and enhancing our business intelligence process with a new class of data. All of this helps create a better customer experience , empowers our employees to make more effective decisions, and drives business results for the company."
The first use case for PathFactory at Druva is real-time nurturing. Been's team is using PathFactory to accelerate the velocity of their nurture programs by encouraging buyers to consume multiple assets in every session and self-educate at their own pace, reducing friction and increasing conversion rates at every stage of the marketing funnel as they learn more about Druva's industry-leading cloud data protection platform. In addition, PathFactory's robust analytics will help the Druva team identify which content resonates with their audience, improving the customer experience and the ROI on marketing investments. Been is a repeat customer, and has used PathFactory at a previous company to achieve a 5X increase in opportunities and a 40% improvement in funnel velocity.
"We're excited to welcome Thomas back to the PathFactory community as a two-time customer and look forward to celebrating his team's success as we work together to implement PathFactory at Druva before the end of the year," said Dev Ganesan, President and CEO of PathFactory. "Forward-thinking marketing leaders like Thomas are harnessing first- and third-party data to generate insights to personalize content experiences, so they can grow revenue and create efficiencies with their marketing strategies."
As a cloud-native technology, Druva delivers data protection and management for the cloud era. Druva is built on AWS and offered as-a-Service, helping customers drive down costs by up to 50 percent by eliminating the burden of unnecessary hardware, capacity planning, and software management. The company's patented cloud architecture transforms backup data into an asset, making it more open and accessible so customers can streamline governance, improve cyber resiliency, and gain critical insights to uncover opportunities and expedite decision making.
See how B2B marketers at technology companies deliver intelligent content at every stage of the customer journey using PathFactory
About PathFactory
PathFactory removes friction from B2B marketing and sales by delivering intelligent content across the customer journey. PathFactory's proprietary content consumption data tells marketers exactly which content and channels are producing the deepest engagement, which prospects are ready to buy, and which customers are likely to be retained or ready to be upsold. PathFactory was recently recognized by Deloitte as one of North America's Technology Fast 500 and Canada's Technology Fast 50 companies. It was also named the only Top-Rated Award Winner in Content Marketing Software by TrustRadius and a 2019 Cool Vendor in Technology Marketing by Gartner.