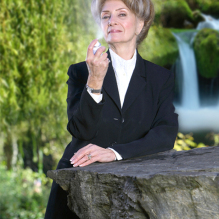 GRANTS PASS, Ore. (PRWEB) June 17, 2019
Date aired: June 10th, 2019
Guest: Dr. Yuan Fang, M.A., Bio Chemistry Research Center, China
China is one of the most populated countries on earth. As it evolves, becoming the planet's economic powerhouse, Dr. Yuan Fang warns that with growth comes 300 million cases of dry eye disease.
Fang, who rose at one in the morning China time to speak with Sharon Kleyne, host of the internationally syndicated weekly talk radio program, The Sharon Kleyne Hour Water Life Science®/Nature's Pharma®, The Power of Water® & Your Health sponsored by Nature's Tears® EyeMist® and Nature's Mist® Face of the Water® on VoiceAmerica, in Oregon's Rogue Valley, teaches that "the eye, connected to the brain, is the most sensitive organ in the body. If the tear film doesn't have enough lubricant," Fang continues, "the eyes can't move well. When people get dry eye, it affects the cornea and that impacts other organs and entire lives."
With computer and mobile phone usage and other factors, dry eye in China is out of control. "Because of air pollution and the aging population," Fang says, "there are more nearsighted people in China than anywhere else. These eyes tend to over-evaporate, bringing on the symptoms of dry eye such as burning, itching, swelling and the feeling that there is something in the eye that shouldn't be there. The bottom line is that the surface of the eye needs lubricant. Eyes must have the lubricant, pure water, to prevent ill health caused by over-evaporation.
Water Life Science® inventor Kleyne agrees. "I want people to be vain," says Kleyne. "If you're vain, you'll take better care of yourself." Power of Water® advocate Kleyne teaches that stress is bad and brought on by over-evaporation of the body's water vapor. Kleyne also warns about eye drops for dry eye. "Eye drops are heavy and can be addictive," says Kleyne.
Fang, who began five years of medical training at the age of fifteen and earned advance degrees in neuroscience including gene therapy work, stem cell research and ophthalmology, asserts that Kleyne's Nature's Tears® EyeMist® is more than Just a Mist®. It is 100 percent pure water that prevents infection of the cornea. "When the body evaporates," says Fang, "sickness is triggered. Keep the eye supplemented with Nature's Tears® EyeMist®, which will prevent dry eye and blindness.
"Years ago," shares Kleyne, "the head of IBM said 'Sharon, some day there will be a mister next to every computer because of what they do to the eyes'. Earth whispers," adds Kleyne. "Put someone else's heart in your hand and you will realize how precious life is on this planet.
If you would like to listen to the talk radio program featuring the conversation between Dr. Yuan Fang, M.A., genome and stem cell researcher of Bio Chemistry Research Center in China and Power of Water® talk radio host and Water Life Science® lifestyle and dry eye educator Sharon Kleyne about dry eye in China and the world, lubrication of the eye, stem cell research, genome studies, water research, body water evaporation, water education and Water Life Science®, follow this link: https://www.voiceamerica.com/episode/115525/the-dry-eye-population-in-china-and-treatment-options