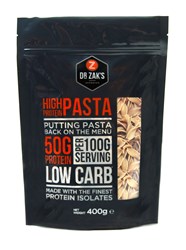 50 grams of protein per 100 grams serving
London, UK (PRWEB UK) 4 November 2013
A revolution in sports nutrition - Dr Zak's protein pasta is a nutritional revolution for athletes and body builders, who traditionally have shied away from pasta due to their very high carbohydrate and low protein content.
By replacing over 50% of the wheat flour in traditional pasta, Dr Zak's have infused the recipe with pea protein isolate and fresh eggs to deliver an impressive 50g of protein in every 100g serving. The pea protein and eggs also supply all the essential amino acids required by athletes and bodybuilders to build and maintain muscle, as part of their training programme.
In addition to the high protein content, Dr Zak's have managed to reduce the carbs by 50% when compared to traditional durum wheat pasta. This will appeal to those looking for a reduced carb diet as well as the sports and fitness sector.
No compromise on taste. As seen with the Dr Zak's protein bread launched in May, taste is just as important as nutritional macros and the pasta is no different. Unlike many protein enriched foods on the market, Dr Zak's protein pasta tastes as good as normal pasta.
The pasta can be purchased online now from http://www.dr-zaks.com and will be available shortly through other online retailers, health and fitness shops as well as all good gyms.
Contact:
Tel: +44 (0)20 3070 2992
Email: info(at)dr-zaks(dot)com