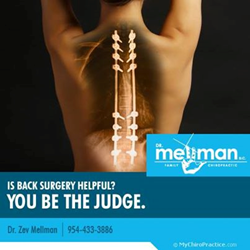 Specific chiropractic adjustments outperformed drugs used to treat spinal related pain.
Pembroke Pines, FL (PRWEB) July 16, 2014
Everyday, people are being treated for back pain and leg pain using a very common method involving steroid injections for spinal stenosis, however, this is proving to have little benefit for many patients, according to a new study that experts said should make doctors and patients think twice about the treatment.
The prestigious SPINE journal knows the importance of Chiropractic Care. In a recent publishing to see how chiropractic adjustments measured up to non-steroidal anti-inflammatories for treating spinal related pain, it significantly worked better and is far superior to placebo. Dr. Zev Mellman, lead Chiropractor of Mellman Famiy Chiropractic in Pembroke Pines, FL commented saying, "Based off the evidence, this model of healthcare appears to be failing and that is why the SPINE Journal clearly is looking for effective and efficient alternatives for helping people with this problem."
Based off of New York Times article on July 2nd, "Hundreds of thousands of injections are given for stenosis each year in the United States, experts say, costing hundreds of millions of dollars."
Dr. Zev Mellman concluded with "Chiropractic BioPhysics has helped millions of sufferers throughout the world live healthier lives, without any risky drugs, painful surgeries, or complicated/experimental medical procedures."
About Dr. Zev Mellman D.C.
We are a corrective based chiropractic facility located in Pembroke Pines, Florida. Our focus is on your overall health by addressing your overall spine. With technology to help us pin-point exactly where the mis-alignment causing the neck pain, back pain, and herniations are, we are able to be very specific and individualized with our spine & postural programs, restoring normal nerve flow throughout your body. To learn more, visit his blog at DrZevTV.com