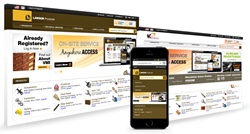 DSS Partners industry experience and guidance enabled us to understand our current situation, define a technology roadmap to meet our objectives and deliver it in a few months. - Sr. Director Digital Marketing & Ecommerce
Chicago, IL (PRWEB) February 04, 2014
The new case study is about how DSS Partners launched Lawson Products' multi-site, B2B Oracle ATG Web Commerce Solution providing complex B2B capabilities across two countries and currencies. The case study also outlines the real time data integrations between the Oracle Web Commerce platform and SAP and the launch of a Mobile Web solution that was optimized utilizing responsive design practices.
"The Mobile Web solution for Lawson Products was architected so they could leverage their previous investment by using the same code base, business rules and data integrations as the eCommerce websites," said Brandon Garcia, Founder of DSS Partners.
To read more about the Lawson Products case study and how DSS Partners can assist your organization with its eCommerce initiatives, or to share this case study with your colleagues, visit http://www.dss-partners.com/case-studies/oracle-atg/b2b/lawson-products/.
About DSS Partners
DSS Partners is an eCommerce business and technology consulting firm. Our work encompasses firms from Fortune 50 to Fortune 1000 companies representing leading names in Retail, Manufacturing and Distribution. Our technology experience includes Oracle ATG, hybris and Magento. We give them our experience, recommendations and thought leadership to help solve their biggest challenges and deliver on their business objectives. At DSS Partners, it's not just about meeting expectations - it's about exceeding them. DSS Partner is headquartered in Schaumburg, IL and has an office in Chennai, India.