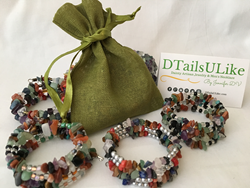 This bracelet showcases semi-precious gemstone chips, each with a distinct flow, shape and beauty that contributes to the whole.
Northborough, MA (PRWEB) March 31, 2016
DTailsULike (http://www.DTailsULike.com), in association with The Artisan Group®, will participate in an exclusive celebrity gift lounge event hosted by GBK Productions, leading up to the MTV Movie Awards telecast. The Gift Lounge will take place on April 8-9, 2016, at an exclusive location in Los Angeles, California.
Founder/designer Jennifer DV's handcrafted Rustic Semi-precious Gemstone Bracelet will be included in The Artisan Group's celebrity swag bags. Created with genuine, semi-precious rough stones, carefully layered over four coils, these bracelets offer a rustic, eclectic vibe.
"This bracelet showcases semi-precious gemstone chips, each with a distinct flow, shape and beauty that contributes to the whole," said Jennifer. "It reflects my belief that as humans, we are all different—with strange edges, and some rough ones too. I see beauty in diversity because these differences are a part of life, what makes us unique."
At the Artisan Group exhibit, DTailsULike will have on display its new "Be Brave, Be Yourself" collection, which includes a necklace and three bracelets for men and a necklace and two bracelets for women.
The men's necklace and men's bracelets form a masculine, stylish collection that is perfect for casual and formal events. Each piece is hand-beaded using sodalite, hematite and tiger beads. The necklace features a turtle focal bead made of snowflake obsidian.
The women's necklace and bracelets are fun and colorful and inspired by the beauty the wearer has to offer the world. The pieces are hand-beaded using a variety of bead types, including Millefiori and silver Czech glass pearls. In honor of April being Autism Awareness Month, Jennifer is also showcasing her Autism Awareness Bracelet.
The "Be Brave, Be Yourself" collection is dedicated to the concept of being ourselves and accepting who we are," noted Jennifer. "We have a tendency to imitate others and forget that we are a unique and important part of the world."
Jennifer's exclusive designs have been gifted to and worn by Golden Globe winner Gina Rodriguez on Jane the Virgin, Season 2, Chapter 32, and by actress Stephanie Drapeau. She has also participated in GBK's 2016 Golden Globes Celebrity Gift Lounge, in association with The Artisan Group.
Shop DTailsULike at DTailsULike.com and MAKE, a collaborative artisan retail store located at 45 Main Street in Leominster, Massachusetts.
To learn more about DTailsULike, contact Jennifer DV by email using the Contact button at the top, right-hand corner of this press release or by phone at (508) 203-6836. Become a fan on Facebook, Pinterest, and Instagram (dtailsulike) and follow the company on Twitter (@dtailsulike).
For more information about The Artisan Group, visit theartisangroup.org.
*Neither DTailsULike nor The Artisan Group are officially affiliated with MTV or the MTV Movie Awards.
About DTailsULike
Handcrafted by Jennifer DV using semi-precious natural stones, DTailsULike (http://www.DTailsULike.com) offers the perfect handmade gift to pamper oneself or one's loved ones. DTailsULike invites you to discover and enjoy its delicate inspirational necklaces, dainty elegant earrings, leather necklaces, rustic natural stone bracelets, awareness bracelets, eclectic jewelry and small timeless jewelry.
Jennifer DV is a proud member #4018 of SRAJD and the Artisan Group®.
About The Artisan Group®
The Artisan Group® (http://www.theartisangroup.org) is a premier entertainment marketing group dedicated to representing small business artisans at the best celebrity gift lounges and press events. The organization provides a collective sampling of handcrafted products to celebrities and members of the press at top luxury gift lounges such as those leading up to The Academy Awards, The Golden Globes, The MTV Movie Awards and The Primetime Emmys.
The Artisan Group also coordinates product placement of its members' handcrafted products on such hit television shows as The Voice, The Vampire Diaries, Days of Our Lives, The Young & The Restless, Modern Family, Jane The Virgin and Law & Order: SVU, among others. Membership in The Artisan Group is juried and by invitation only.