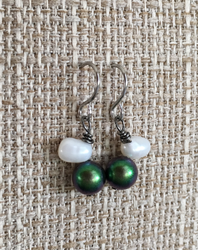 My Pearls Love Dangle Earrings celebrate life, success and learning.
Northborough, MA (PRWEB) September 14, 2016
DTailsULike (http://www.DTailsULike.com), in association with The Artisan Group®, will participate in an exclusive celebrity gift lounge event hosted by GBK Productions, leading up to the 2016 Primetime Emmys telecast. The Gift Lounge will take place on September 16-17, 2016, at an exclusive location in Beverly Hills, California.
Founder/designer Jennifer DV's handcrafted Pearls Love Dangle Earrings (Retail $39.99) will be included in The Artisan Group's celebrity swag bags. The earrings showcase a genuine freshwater cultured pearl and a beautiful Swarovski crystal pearl in fall colors, gracefully juxtaposed and suspended from a hypoallergenic ear hook. The result is a pair of modern, refined earrings that are perfect for any celebration.
Celebrities will their gifted earrings encased in DTailsULike's beautiful branded packaging, and tucked inside The Artisan Group's signature black swag bag.
"Autumn is just around the corner and the holidays are my favorite time of year," said Jennifer. "These earrings incorporate beautiful fall colors in nuanced shades of taupe, grey, green and gold. They celebrate life, success and learning. I designed them to make a woman feel gorgeous and well-accessorized for any occasion, without competing with her natural beauty."
DTailsULike is known for its eclectic, minimalist style, inspired by Caribbean sunsets and vistas. With every piece she designs, Jennifer DV puts the focus on adorable, fun, colorful and timeless. "My desire is to present women with jewelry that will make them feel elegant, confident and empowered," remarked Jennifer.
The designer's Fall | Winter 2016 collection features leather chokers and necklaces, earrings and bracelets in seasonal colors like Lush Meadow. The pieces incorporate a playful mix of Italian and Czech glass, gemstones and stainless steel elements.
DTailsULike jewelry partners with The Artisan Group to put her celebrity jewelry designs in front of Hollywood wardrobe stylists. To date, her jewelry has been worn on several popular television series, including The Fosters, Baby Daddy and by Gina Rodriguez on Jane the Virgin. It has also been worn on Normal People Scare Me Too a film about autism.
Jennifer's exclusive designs have been gifted to and worn by actress Stephanie Drapeau. A piece from the Fall | Winter 2016 collection was included in gift bags for NFL wives. Jennifer has also participated in GBK's 2016 Golden Globes and MTV Movie Awards Celebrity Gift Lounges, in association with The Artisan Group.
Shop DTailsULike at DTailsULike.com and MAKE, a collaborative artisan retail store located at 45 Main Street in Leominster, Massachusetts.
To learn more about DTailsULike, contact Jennifer DV by email using the Contact button at the top, right-hand corner of this press release or by phone at (508) 203-6836. Become a fan on Facebook, Pinterest, and Instagram (dtailsulike) and follow the company on Twitter (@dtailsulike).
For more information about The Artisan Group, visit theartisangroup.org.
About DTailsULike
Handcrafted by Jennifer DV using semi-precious natural stones, DTailsULike (http://www.DTailsULike.com) offers the perfect handmade gift to pamper oneself or one's loved ones. DTailsULike invites you to discover and enjoy its delicate inspirational necklaces, dainty elegant earrings, leather necklaces, rustic natural stone bracelets, awareness bracelets, eclectic jewelry and small timeless jewelry.
Jennifer DV is a proud member #4018 of SRAJD and the Artisan Group®.
About The Artisan Group®
The Artisan Group® (http://www.theartisangroup.org) is a premier entertainment marketing group dedicated to representing small business artisans at the best celebrity gift lounges and press events. The organization provides a collective sampling of handcrafted products to celebrities and members of the press at top luxury gift lounges such as those leading up to The Academy Awards, The Golden Globes, The MTV Movie Awards and The Primetime Emmys.
The Artisan Group also coordinates product placement of its members' handcrafted products on such hit television shows as The Voice, The Vampire Diaries, Days of Our Lives, The Young & The Restless, Modern Family, Jane The Virgin and Law & Order: SVU, among others. Membership in The Artisan Group is juried and by invitation only.