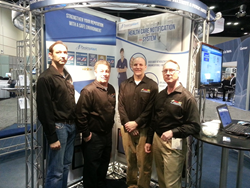 Chatham, New Jersey (PRWEB) April 15, 2014
Desktop Alert Inc., the Department of Defense leader in less than one minute alert notification systems, today announced that the company's mass notification system has been successfully migrated to the new USAF AFNet network. Desktop Alert is the only current system provisioned with a USAF Enterprise-Wide Certificate of Networthiness. The company is also certified and listed on the new DISA/APL.
The Air Force District of Washington successfully managed the migration of Desktop Alert to the AFNet network. In early April, 2014, AFDW personnel were trained on the newly migrated system at the Pentagon.
"We are proud to provide a mass notification system based on the latest Microsoft technologies to the newest USAF Network AFNet," said Howard Ryan, CEO Desktop Alert Inc.
About Desktop Alert: http://www.desktopalert.net
Worldwide U.S. military organizations such as the U.S. National Guard, the U.S. Air Force Academy, the U.S. Military Academy at West Point, Multi-National Forces in Iraq, the U.S. Air Force, and The U.S. Army now utilize the Desktop Alert total mass notification platform daily for their organization's emergency communication requirements. Desktop Alert can contact thousands of computer users at their desktop and require them to click to confirm receipt of the message flashed on their screen. Those not verified can then be listed on a report and/or sent as a "Target Package" to be automatically contacted by other means such as email, SMS, phone calls and other devices.