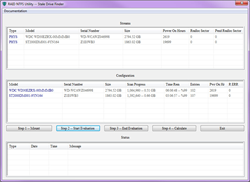 SAINT PETERSBURG, Florida (PRWEB) December 18, 2015
As systems have grown larger and the advent of raids become almost common place DTI Data research has discovered there is a real need for a simple, fast, and reliable software tool to bring about a successful raid recovery for the technician as well as their clientele. DTI Data brings to technicians a tool that will help bridge the gap for raid five and raid one recovery by introducing the Stale Drive Finder tool.
In the realm of raid recovery there has always been a void between what the client thinks happened to the array and what the real history of the failure is. This void, many times, is the difference between a successful recovery and one that either takes longer or is unsuccessful. It has always been of paramount importance to unearth the real cause of a raid failure in contrast to what one perceives as the failure. Stale Drive Finder aides in doing just that.
Over eighty percent of the raid fives sent to DTI Data for recovery have had a drive that has been down or degraded in the array before the raid actually failed. The length of time the drive has been down always has a direct correlation to the possibility of recovery, especially if a rebuild was tried and failed. There has always been a chance that the wrong drive was identified as the stale drive and thus made it virtually impossible to successfully rebuild the raid, or recover the data. In addition, stale drives are notorious for inserting themselves back into the array at the most inopportune times and can in fact corrupt the stripe and destroy valuable data.
With Stale Drive Finder software it is just a matter of a few button clicks and the offending drive will be identified. Using algorithms developed over several years of raid recovery experience the possibility of identifying the stale drive is extremely high and much more reliable than the client's perception of the raid failure. Engrams that are found in the array in its present state can be used to identify certain criteria that will link to the stale drive. It is this technology that brings about a more successful recovery percentage.
Stale Drive Finder brings to the forefront a much needed technology in the complex world of data recovery. It has been a long time coming but this tool has been well worth the wait. So it is with the greatest of expectations that DTI Data brings to the technological world a tool to once again aide the tech in his day to day duties. We know that you will find the pricing as well as the simplicity of Stale Drive Finder a welcome addition.