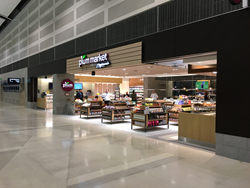 "We could not be more excited to open this Plum Market location. It's an honor to have our store be part of the Detroit Metropolitan Airport." -Matt Jonna, CEO of Plum Market
Romulus, MI (PRWEB) October 30, 2015
Plum Market (http://www.plummarket.com) will open the doors today to its newest store and its first airport location inside the Detroit Metropolitan Airport (DTW). The new store concept will offer Detroit guests and worldwide travelers a variety of made-to-order sandwiches on Zingerman's Bakehouse Breads, a Coffee Bar serving Zingerman's Coffee, Plum Market Kitchen's signature prepared foods, and a full service WineBar.
"We could not be more excited to open this Plum Market location," says Plum Market CEO and Co-Founder Matt Jonna. "It's an honor to have our store be part of the Detroit Metropolitan Airport. We believe this is a world-class city, and we're ready to show it to the world."
Plum Market will open in the McNamara Terminal, Detroit's hub for Delta Air Lines. The 3,700 square foot store will be open for breakfast, lunch, and dinner, and will also serve a curated selection of local selections and All Natural items that are well suited for both travel and gifting. The location will be operated by Hojeij Branded Foods (http://www.hbfairports.com).
"This exciting new venue helps to make Detroit Metropolitan Airport unique among major hubs," added Thomas Naughton, CEO of Wayne County Airport Authority. "We were impressed with this proposal and expect Plum Market Kitchen to be a guest favorite."
The Plum Market Kitchen will offer a variety of made-to-order and grab-and-go items. Guests can choose from a selection of signature recipes made with All Natural ingredients, including Zingerman's products, Niman Ranch meats, and locally made Sy Ginsberg's Corned Beef. Guests sitting at the WineBar will be able to order small plates while looking through a list of cult wines and premium champagnes served from an Enomatic quality-preserving wine system. The WineBar will serve craft liquors, Housemade cocktails, and an array of local craft beers on draft and in bottle, as well.
Plum Market is conveniently located near the center of the McNamara Terminal next to Gate A36, and will be open from 5am to 10pm.
About Plum Market
Plum Market is your neighborhood grocer for Natural, Organic, Local, and Specialty items. The privately owned Michigan-based company operates full-service grocery stores in Chicago, Illinois; Bloomfield Township, Michigan; West Bloomfield, Michigan; and will open its second store in Ann Arbor, Michigan, this November. For more information, please visit http://www.plummarket.com or Like Plum Market on Facebook.
About HBF APU JV, LLC
HBF APU is a joint venture between Hojeij Branded Foods, an Atlanta-based company operating over 68 restaurants and bars in 11 of the top 26 airports around the country over the past 22 years. AP United is a local Detroit-based company that currently operates six retail stores in the North and McNamara terminals. For more information, please visit the website at http://www.hbfairports.com.
# # #