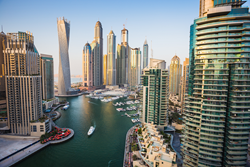 With the already far-reaching and expanding network of Dubai's Emirates airline, travelling to the city is becoming cheaper and more accessible.
(PRWEB UK) 30 June 2014
Guaranteeing year-round sunshine and warmth, fabulous beaches and an abundance of unforgettable sights, attractions and activities to enjoy, Dubai, an emirate of the United Arab Emirates, is a holiday destination unlike any other. This glittering and ultra-modern city-state is renowned for its vast and opulent shopping malls, breath-taking architecture, world-class restaurants and luxurious lifestyle. By contrast, the oldest neighbourhoods of Dubai retain a traditional charm, where atmospheric souks selling spices, handicrafts and textiles nestle in the shadow of grand nineteenth-century mosques.
Dubai's diversity and wide-ranging appeal truly offers something to delight every holidaymaker; a key factor in its selection by leading vacation home rentals website Alpha Holiday Lettings as 2014's most popular holiday destination. Furthermore, holidaying in Dubai is easier and more affordable today than it has ever been. As Alpha Holiday Lettings' Tome Lei explains, "With the already far-reaching and expanding network of Dubai's Emirates airline, travelling to the city is becoming cheaper and more accessible."
Besides offering holidaymakers recreational activities that include everything from sublime snorkelling and diving to championship golf and even indoor skiing on pistes created from six thousand tons of real snow, Dubai has established itself as a premier destination for hosting celebrations and events.
Thoroughly multicultural, Dubai is extremely popular during the Muslim festivals of Ramadan and the subsequent Eid Al-Adha, whilst the emirate's Christmas and New Year celebrations have attained near-legendary status; 2013's New Year's fireworks display broke world records as the biggest ever.
Dubai's packed events calendar ensures that there is something both entertaining and spectacular happening at all times of the year, from world-class sporting fixtures including the iconic horse-racing event Dubai World Cup, the Desert Classic golf tournament and the Dubai Duty Free Tennis Championships to more eclectic events such as the Dubai Jazz Festival, International Boat Show and the famous Dubai Shopping Festival.
Whilst Dubai is renowned for offering some of most exclusive and luxurious apartments and hotels on the planet – most notably, perhaps, the Burj Al Arab, acclaimed as the world's first 'seven-star' hotel – significant investment in the construction of privately-owned properties in the emirate over the last two decades has created a thriving market for short-term holiday lets.
Holiday rental properties in Dubai are invariably of a supremely high standard and range from luxury family villas equipped with their own private beach and pool to quality serviced holiday apartments in popular and prestigious locations such as Dubai Marina, Jumeirah Beach and the iconic Palm Jumeirah development. Particularly for families or groups holidaying in Dubai, these quality rental properties offer freedom and flexibility and are often more affordable than an equivalent stay in a Dubai hotel.
Within reach of everybody and catering to every possible taste, Dubai's unrivalled combination of fun, sun and glamour deems it unquestionably worthy of its crown as Alpha Holiday Lettings' most popular holiday destination for 2014.
About Alpha Holiday Lettings
Alpha Holiday Lettings has rapidly established itself as one of the top holiday rentals portal sites in Europe and offers self-catering apartments, cottages and holiday villas in Spain, England, France, Portugal, Italy, Cyprus, Turkey and other destinations around the world. The majority of the properties listed on Alpha Holiday Lettings are privately owned and are booked directly with holiday home owners. For more information, visit http://www.alphaholidaylettings.com.