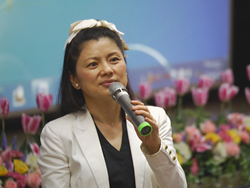 ...making a marriage last is not about compromising or losing one's freedom and interests
Dubai, UAE, United Arab Emirates (PRWEB) September 18, 2014
Asia, Europe and America have seen rising trends of divorce in the last decade.
Over the past decade, the United Arab Emirates has recorded the highest divorce rate in the Gulf region, averaging about 3 divorces a day. This was based on a report by the Dubai Courts. Emiratis, who make up less than one-fifth of the population, yet account for over one third of all divorces.
If these trends continue, it is likely that marriages which last would become a rarity than marriages which break up.
Three times number one bestselling author and marriage expert Hellen Chen is a matchmaker extraordinaire who frequently worked with men and women who have given up on relationships because of past failures.
Chen's insights on relationships have been quoted on over 200 media publications and radio and TV interviews, in 20 countries, including the UAE.
Chen will be arriving in Dubai to hold a special seminar on how to find and keep up a lasting satisfying relationship.
In her recent seminar in America, which has a national divorce rate as high as 30%, Chen spoke about the problem with most separations, "If a relationship is not going well, there is nothing wrong to end it and move on. But most people who end their relationships often do not know what's really wrong in the first place. They left the marriage with a cloud of confusion. Worse, they bring this confusion to the next marriage!"
Chen is called "the Matchmaker of the Century" by the people she has helped because of her tenacity of not giving up, and working with men and women of all backgrounds and ages until they find the right partner. What made her even more special is that she does not stop at the matchmaking part but continues to help couples to make their relationships last.
One of her bestselling books "Hellen Chen's Love Seminar" touches upon why the dating game of modern times is a partial contributor to divorces.
"Most singles date for a few years, break up, and then get into dating again for another few years, then break up, and on and on it goes." said Chen, "They feel they can always 'meet someone better' and yet have no idea how to make a relationship last."
"Worse, they bring the standards of their previous relationships into the next relationship and even to their marriages. And they expect the new guy or gal to fit some prior standards. This is not only unfair but it sets the stage for a blowup of the marriage." Said Chen.
Being married for more than 20 years herself, Chen said that contrary to beliefs, making a marriage last is not about compromising or losing one's freedom and interests. One could truly still have one's own space while letting one's partner have his or her own space.
How about the much-echoed sentiment: it is simply hard to establish a long-term relationship with someone in Dubai?
"In every city I have been in different countries, including Dubai, I have never failed to encounter men and women who are serious in searching for a lasting happy relationship. They are in the majority. It does not matter if they have had many failed relationships before. Deep them in their hearts, they still wish for their soul mate whom they could spend the rest of their life with," said Chen.
"It is simply not true that men and women in Dubai are caring less for a sound relationship," Chen added.
How about the common "must-have's" when looking for a marital partner? For example, looks and money have been at the top of many singles' lists of criteria.
Chen chimed in on this phenomenon of having to have absolutely the right person that could fit self.
"Dating websites are filled with match seekers listing out their criteria for their Mr. or Miss Right. But if those criteria are so important, why is the divorce rate not going down?" Chen asked.
"If one does not know his or her role in a relationship, and does not even know what a man wants, and what a woman wants, one will have a hard time to have the love relationship one is wishing for," said Chen.
She has conducted thousands of lectures which also include love workshops to help singles start their relationship right and also help couples to learn how to love deeper, and also how to salvage relationships before heading to the divorce courts.
She will be heading to Dubai on September 26th and 27th to conduct a "true love and happy marriage" seminar for both singles and married couples. (Details on http://MatchmakerOfTheCentury.com )