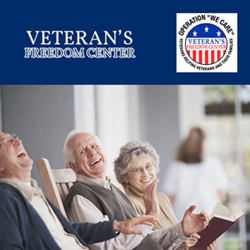 These true-blue American heroes and their families have sacrificed so much for all of us. It's an honor and a privilege to have the opportunity to give something back to them
Dubuque, IA (PRWEB) May 05, 2016
Tim Dieter has announced the latest beneficiary of his insurance agency's ongoing community enrichment program serving families of greater Dubuque, IA. The current campaign fundraises for Veteran's Freedom Center on behalf of all the area's active duty, reserve and honorably discharged veterans. Donations to Veteran's Freedom Center may now be made here: http://www.veteransfreedomcenter.com/donate/.
Veteran's Freedom Center serves Tri-State military veterans and their families with networking opportunities, companionship, activities and when needed, financial assistance. Program 'Operation We Care' is a grassroots initiative designed specifically to address any special needs of veterans and their families when all other means of assistance and support have been exhausted. Aid with rent and mortgage payments, utilities, prescriptions, food, clothing and transportation, as well as concrete items, such as wheelchairs and walkers, have been provided by the program. All staff members volunteer their time, and fundraising to meet the demands of operating the facility and assisting veterans and their families in need is a continual challenge.
"We're thrilled to be partnering with Veteran's Freedom Center," said Tim Dieter, owner of Dieter & Associates. "These true-blue American heroes and their families have sacrificed so much for all of us. It's an honor and a privilege to have the opportunity to give something back to them."
The caring Dieter team is hard at work promoting the campaign for Veteran's Freedom Center through various channels, including featuring the campaign in their monthly magazine. Our Hometown is delivered to thousands of households in metro Dubuque and surrounding communities, and has reserved a full page to feature the initiative. The electronic Flipbook version of the magazine's current issue may be accessed here: http://www.dieteragency.com/Our-Hometown-Magazine_41.
The agency itself has pledged to donate $10 to Veteran's Freedom Center for each and every recommendation they receive for an insurance quote, with no purchase necessary. Readers wishing to join Tim Dieter in supporting local veterans in their time of need may view the campaign, recommend a friend or make a personal donation by visiting: http://www.dieteragency.com/Support-Our-Heroes-Who-Gave-Us-Freedom_27_community_cause. Contributors may be acknowledged for their donations in a future issue of Our Hometown magazine.
Dieter just recently launched the master charity program 'Agents of Change', committing to select a new local organization, family or individual every two months to receive his agency's support. Information on past campaigns may be found at: http://www.dieteragency.com/community-cause. To learn more about the agency and Veterans Freedom Center, readers may visit: http://www.dieteragency.com/ and http://www.veteransfreedomcenter.com/.
About Dieter & Associates
Serving the families of greater Dubuque, IA, Dieter & Associates is a locally owned and operated, full service agency whose mission is simple: to provide the finest insurance and financial services in the industry, while delivering consistently superior service. Tim Dieter and his team of caring professionals believe passionately in working to better their community, as well as in protecting all the things which are most important to their clients (their families, homes, cars and more). They also help clients to prepare long-term strategies to enable financial security and success. Their dedicated experts may be reached by calling 563-582-2277.