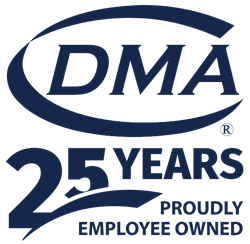 Our employee-owners live out our client service principles of honesty, integrity, ethics and respect every day.
FORT WAYNE, Ind. (PRWEB) December 03, 2019
DMA – DuCharme, McMillen & Associates, Inc., an industry-leading tax consulting firm serving the U.S. and Canada, proudly announces its 25th anniversary as an employee-owned company.
Established in 1972 as a privately owned company, DMA became an employee-owned company in December of 1994 when employees purchased the company from its founders using an Employee Stock Ownership Plan (ESOP). Through the ESOP, DMA's employee-owners have an ownership interest in the company, the value of which is directly tied to their efforts and the company's share price performance. Since its inception, the ESOP's value has increased dramatically, including double-digit growth over each of the past four years.
In addition to the retirement plan benefits it provides to employees, the ESOP fosters a strong employee-ownership culture, which encourages and rewards teamwork and a relentless dedication to client service and satisfaction. "Our employee-owners are passionate about providing outstanding client service: from creating great client experiences and delivering excellent results, to developing long-term relationships with our clients, our employee-owners live out our client service principles of honesty, integrity, ethics and respect every day," said Dan Hutmacher, DMA President and CEO. "It's not just a motto or lip service. Our goal is to serve our clients as an extension of their tax departments, customizing our approach to each client's unique needs and circumstances."
Learn more about DMA's client-centric philosophy, tax consulting services, and career opportunities at DMAinc.com.
About DMA
DMA, a proudly employee-owned company, has been partnering with many of North America's largest companies since 1972 to solve their corporate tax challenges. Focusing on seven key areas of corporate taxation – property tax, sales/use and commodity tax, state income and franchise tax, tax technology, value-added tax, crown royalties, and unclaimed property – DMA professionals assist companies with minimizing their taxes, enhancing the efficiency of their tax administration through industry-leading technology solutions, and managing their tax compliance obligations. To learn more about DMA, visit DMAinc.com.