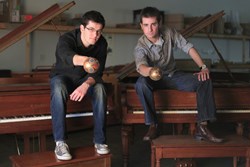 Finding the right balance of comedy and music was key.
Barrington, IL (PRWEB) January 07, 2014
There's a new player in the entertainment industry, and they don't play nice...
They've been around for over a hundred years. You can find them in every big city across the US. Yet dueling pianos is just now starting to establish itself in the wedding and corporate event markets.
Event planners have been limited in entertainment options. The ubiquitous DJ has been utilized time and time again for the cost benefit and music flexibility. Meanwhile, the high budget events can opt for a six to twelve piece orchestra in pursuit of the "live" experience. Many events also hire stand-up comedians and magicians to supplement the evening with a 30 minute spot.
Now imagine combining the flexibility of a DJ, the "wow" factor of a live band, and the interaction/comedy of a stand-up comedian. Enter dueling pianos.
The dueling pianos concept is built upon an all request, audience driven show. From Elton John to Miley Cyrus, Frank Sinatra to Sir Mix-a-Lot, performers are trained to handle any request. Combine that with the antics of an improvisational comedy show and now you're looking at an option that can entertain any group, from a private house party to a 1000+ seat theater.
Relatively new to the dueling pianos tradition is Felix and Fingers, a Chicago-based company who provides entertainment across the country. F&F have managed to redesign the dueling concept (previously relegated to piano bars) and introduce it into the wedding, private, and corporate sectors.
"Finding the right balance of comedy and music was key" said Mike Potts, co-founder and CEO of the company. "People are familiar with the raunchy Vegas acts and bar shows. We wanted to offer a product for the more discerning client who still wants to have a good time".
Going on their 4th year, Felix and Fingers have received accolades from wedding networks like The Knot and Wedding Wire, along with glowing reviews from Fortune 500 companies such as Aflac and John Deere.
For a free quote, contact Felix and Fingers directly via phone or email.
About:
Felix and Fingers is a Chicago/MidWest dueling pianos company servicing weddings, corporate events, fundraisers and Mitzvahs across the country. Founded in 2010, they have their offices in Barrington IL.