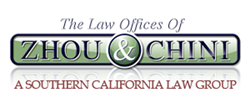 Talk to a lawyer if you have been arrested for DUI in Orange County, know your legal rights!
(PRWEB) August 30, 2013
The law offices of Zhou & Chini are very well-known for the work they have been doing in the bankruptcy courts. They have just added DUI defense to the firms list of practices that they offer. The Orange County lawyers have years of experience at practicing criminal law, and want to use this knowledge to help those looking for proper legal defense. If an individual has been arrested for DUI or (23152), they should immediately seek legal counsel to go over their options. It is unlawful for any person who is under the influence of any alcoholic beverage or drug, or under the combined influence of any alcoholic beverage and drug, to drive a vehicle. To view the new DUI attorney website created by the firm visit, http://www.duilawyerorangecountyca.com/
The law firm headed by the criminal defense attorney James Zhou has the knowledge needed to properly represent their clients. Mr. Zhou was on the Indigent Defense Panel of criminal defense attorneys in San Bernardino, which is the equivalent to the alternate public defender's office. The firm wants to use there vast knowledge to help defense those arrested in Orange County for drunk driving. Getting arrested for drunk driving can be very difficult on the individual involved, and having an attorney guide that person through the criminal courts can make a world of difference. If the individual is 21 years of age or older, took a blood or breath test, or a urine test, and the results showed 0.08% BAC or more, a first offense will result in a 4-month suspension of one's driver's license. The DMV suspension or revocation is an immediate administrative action taken against an individual's driving privilege only. This is called Administrative Per Se (APS). Any sanctions imposed by DMV under APS are independent of any court-imposed jail sentence, fine, or other criminal penalty imposed when a person is convicted for driving under the influence. To learn more about the different actions taken against an individual involved in a suspension of drunk driving arrest in Orange County, call 888-901-3440.
The new website launched by the law firm is to provide basic information about the DUI laws in California. The firm believes if someone is arrested for drunk driving they should immediately speak to a criminal defense attorney. The person arrested has only ten days to request a DMV Hearing in Orange County, or administrative hearing. If an individual is facing a felony DUI in Orange, the issues can be quite severe, from large fines to jail time, the firm offers a no cost consultation to discuss all matters whether they are a misdemeanor or a felony.
The lawyers use the top professional search engine optimization company to promote the message about the importance of consulting with a well-seasoned drunk driving attorney in Orange CA, if someone has been arrested. The firm continues its online presence by offering free consultations and information on criminal defense on the firm's blog and social media pages. Providing this information, along with offering free consultations, the firm hopes to attract more local residents looking to hire to an experienced lawyer.
About the Firm: The Law Office of Zhou & Chini servicing the cities and counties of California. He is a graduate of UCLA and has been practicing law since 1999. Mr. Zhou has a wealth of experience in bankruptcy, civil litigation, family law, criminal law and unlawful detainers. Zhou and Chini Law Offices provide bankruptcy assistance to Riverside, Los Angeles, Riverside and San Diego residents. For more information about an immigration attorney in Orange, contact the firm.
Contact: James Zhou
info(at)duilawyerorangecountyca(dot)com
Phone: 951-200-3360