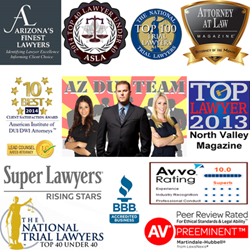 We decided to become members of Local Arizona First because to make sure that the community has access to experienced, resourceful and intelligence for DUI defense in Tempe
Tempe, AZ (PRWEB) April 03, 2015
DUI attorneys in Tempe at The DUI Team are proud to announce their new membership in the online community, Local First Arizona. The DUI lawyers at The DUI Team have helped thousands of people with drunk driving and drug related DUI charges in Tempe. Local First Arizona´s goal is simple: Make Arizona a better place by supporting locally owned businesses and building vibrant communities that residents are proud to call home according to their website. "We decided to become members of Local Arizona First because to make sure that the community has access to experienced, resourceful and intelligence for DUI defense in Tempe and surrounding areas," says Attorney Brian Sloan of The DUI Team.
Local First Arizona (LFA) is a statewide non-profit organization working to strengthen communities and local economies through growing, supporting, and celebrating locally owned businesses throughout the state of Arizona just like The DUI Team in Tempe.
They educate consumers, stakeholders, business leaders, and policymakers about the significant economic, civic, and cultural benefits of strong local economies. They build vibrant communities that make residents proud to call Arizona home. And when people are proud of their hometown, they tend to care more, to volunteer more, to vote more, and give more. Tempe DUI attorney Brian Sloan is proud to be a new member of Local First Arizona.
The DUI Team is comprised of experienced Tempe DUI attorneys who have successfully represented clients facing criminal charges in Arizona for many years. Brian Sloan, who is a senior member of The DUI Team has successfully defended people charged with DUI with very good results according to the online reviews left by their customers. Results range from no consequences related to the arrest or greatly reduced consequences depending the situation. "We do a very thorough job of investigating the circumstances surrounding the arrest. We also provide a clear explanation of the charges and a realistic expectation of what the outcome may be when you hire out DUI lawyers in Tempe."
To learn more about The DUI Team please visit their website. There people can read extensive information DUI related topics including DUI arrest tips and DUI arrest myths. People are also invited to read their news releases and view their informative DUI videos. To schedule a no cost consultation and to speak with a DUI lawyer in Tempe for no charge please call (480) 382-5562.
The DUI Team
60 E Rio Salado Pkwy
#900d
Tempe, AZ 85281
(480) 382-5562