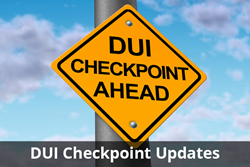 Los Angeles, CA (PRWEB) April 22, 2016
The Los Angeles Police Department announced today that they will be setting up DUI checkpoints this weekend in Los Angeles area at these locations:
1. Rosecrans Avenue at Menlo Avenue in Los Angeles - Friday, April 22, 2016, 8 p.m.-2 a.m.
2. Western Avenue at 8th Street in Los Angeles - Friday, April 22, 2016, 8 p.m.-2 a.m.
3. Sepulveda Boulevard at Raymer Street in Van Nuys - Saturday, April 23, 2016, 8 p.m.-2 a.m.
4. Newton Area - Sunday, April 24, 2016, 8 p.m.-2 a.m.
Locations of the checkpoints are subject to change or cancellation.
Mr. Ticket, traffic attorney, warns drivers in Los Angeles area to be wary of these checkpoints and to avoid driving under the influence.
More than 7,000 DUI-related collisions have taken the lives of 60 people and injured more than 2,800 more over the last three years. Drunk driving is a serious problem in the Los Angeles area, which is why DUI checkpoints are periodically announced to help stop collisions before they occur.
The penalties for driving while intoxicated can be severe. Drivers who are found to be driving while impaired can be facing severe penalties, including:

Costs of up to $10,000
Time in jail
Restricted, suspended or revoked driver's license
Additional consequences can include higher insurance rates as well as social, personal, and workplace consequences. The penalties for those in violation of probation for drunk driving are even steeper, according to California Vehicle Code 23154 (a).
California Vehicle Code 23154(a) states, "It is unlawful for a person who is on probation for a violation of Section 23152 or 23153 to operate a motor vehicle at any time with a blood-alcohol concentration of 0.01 percent or greater."
A fun night out does not have to end in jail and long-term penalties. The best way to avoid these consequences is by designating a sober driver who will not be drinking. The DUI checkpoints will be funded by a grant by the NHTSA.
Those who are facing DUIs or DWIs can benefit from legal advice. Mr. Ticket offers consultations and legal assistance for those who are facing these serious legal charges.
Mr. Ticket, traffic ticket attorney in Los Angeles, helps California drivers fight a variety of traffic tickets and charges including drunk driving, speeding tickets, hit and run, reckless driving and more. He also provides services for commercial drivers.