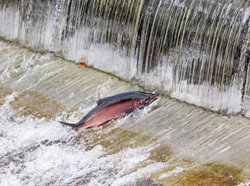 "Our work will build on the efforts of others before us and combine all of the common sense ideas in one place," Amy Waeschle.
SEATTLE (PRWEB) December 01, 2019
Duke, son John Moscrip and daughter Amy (Moscrip) Waeschle, share a long-standing commitment to wild salmon and, according to Moscrip, "The time has come to launch a tangible initiative to demonstrate that commitment. I've studied, researched, and advocated for the wild salmon for decades," he adds. "Numerous organizations are working on this goal and we support those efforts, but our family wanted to start the foundation to find lasting common sense solutions that work for all parties involved. This issue is just too important to be on the sidelines."
According to the foundation's founders, most of what needs to be done to help recover wild salmon in the Pacific Northwest comes down to common sense: rebuild habitats, reduce pressure from artificial propagation and over-fishing, and re-establish balanced predator-prey relationships just to name a few. Dams, hatcheries, harvesting of salmon, habitat and predators are all part of the extensive study, which is also the foundation for a book scheduled to publish in early 2020. Common Sense Salmon Solutions: A Recipe for Restoring Wild Salmon, written by Amy Waeschle, Dave Montgomery, and Duke Moscrip
The book will, according to Waeschle, demonstrate the solutions that make sense both environmentally and economically and is designed to cut through the myths and preconceived notions blocking adaptation of action. "I've known Dave (Montgomery) since he was my professor in college and he is so good and so practical in his research," she says. "Together, we are taking his science and our practical understanding of the politics and issues surrounding action and developing workable steps to reverse this tragic situation."
"Though our foundation is only just beginning," says Moscrip, "we have already completed extensive groundwork; from speaking with governors, heads of local government offices, non-profits, Fish & Wildlife representatives, authors, and NOAA scientist. We know what has to be done and will publish our findings next year, but we need help to kick-start the implementation, which is why we are launching on Giving Tuesday. We want people to know who we are and what we will accomplish and join our cause."
Waeschle adds, "Our work will build on the efforts of others before us and combine all of the common sense ideas in one place."
For more information, visit http://new.dukessustainablesolutions.org/
About Duke's Sustainable Solutions Foundation
The foundation was founded in 2019 by Duke Moscrip, his son John Moscrip, and daughter Amy (Moscrip) Waeschle on behalf of their children, grandchildren, and grandchildren to come. The Mission of Duke's Sustainable Solutions Foundation is to restore wild salmon populations to abundant levels through the implementation of common sense solutions. Raised in the Pacific Northwest, the family is deeply connected to the preservation of wild salmon recognizing that it is critical to the health of our oceans, watersheds and the culture and lifestyle that connects our communities.