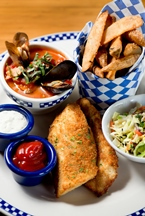 Most cod is twice frozen...This method is much cheaper...also resulting in a much lower quality of cod. At Duke's, we have only once frozen cod. The flavor difference is amazing!
Seattle, WA (PRWEB) January 29, 2015
Founder and Owner of Duke's Chowder House Duke Moscrip recently returned from an Alaska adventure in which he observed the catching and processing of the cod supplied at his restaurants. While the trip was just one of the many times that Duke has traveled to Alaska to attain fresh cod from his supplier, it was the first time that he actually joined the cod fishermen on the boat to observe their technique–demonstrating Duke's commitment to serving the best quality of seafood by knowing as much as possible about the process.
Whereas New England Cod used to be abundant, Pacific Cod from the Alaska region is currently the cod of choice. Duke has been purchasing his cod from Alaska for over 40 years now, transporting it back to Washington to serve at his highly-renowned Chowder House locations.
Indicating his interest in serving the best seafood in the world, Duke pioneered the "Ice Chilled, Better than Fresh" program of handling all seafood brought in to the restaurants including cod from Alaska. Duke says, "Most cod is twice frozen, meaning after being caught and frozen, the fish is shipped to China, thawed, processed and refrozen. This method is much cheaper, lowering the cost to restaurant owners and food suppliers, but it results in a much lower quality of cod. At Duke's, we have only once frozen cod. The flavor difference is amazing!"
Duke's Chowder House sources cod from Sandpoint, Alaska and, to ensure the highest quality end product, Duke buys only the loins of the meat, i.e. the center cut of each cod, which are then individually quick frozen (IQF) for superior flavor and freshness.
During Duke's excursion to Alaska, he joined Captain Bob Starr and his crew aboard the 85 foot "Northern Endurance" fishing vessel for a night of deep sea fishing. Duke observed the team capture the same Pacific Cod used in Duke's popular Fish & Chips for the last 40 years.
After capturing the cod, Sandpoint Trident's Plant Manager Armand Audette described to Duke the measures taken to carefully transport the cod from the boat to the plant. The video shows the fish being gently transferred onto a rubber conveyor belt and then loaded into totes along with ice and seawater, referred to by the fisherman as a 'slush tote.' From there, the fish are taken into the plant where an automated process results in premium white cod filets.
During the last stage, the fish are frozen in a 'blast freezer' for two hours in order to get the fillets down to a temperature of -20 degrees. At that point, the cod is ready to be sent to the restaurant, where Duke's culinary experts use the fillets to create the delectable seafood dishes from the Duke's Chowder House menu.
For more information about Duke's Chowder House, please visit http://www.DukesChowderHouse.com. To watch Duke in action during his Alaska fishing adventure, go to: http://youtu.be/LVL5GTgI_Mo. Check out Duke's Chowder Houses' latest Fresh Sheet to find the featured cod dishes from the menu.
About Duke's Chowder House:
Dedicated to bringing its customers the best every day, Dukes Chowder House operates six restaurants throughout the Puget Sound region and boasts membership of 175,000 in its popular VIP club. Founder and Owner Duke Moscrip – together with his son and partner John Moscrip – continue their passionate journey to source all natural, healthy and fresh ingredients. Duke's food is free of hormones, antibiotics and free of harmful chemicals. Moscrip pioneered the concept of "ice chilled, better than fresh seafood." Duke's is an upscale, casual Pacific NW seafood concept offering signature, flavorful, 100% sustainable wild seafood, Award Winning Chowder and grass fed burgers in a gathering place that is friendly, comfortable, unpretentious and filled with personality. Guests sum up their favorable assessment of what Duke's Chowder House has to offer with three words: "It's sooo good!" Learn more and join the VIP club at Duke's Chowder House.