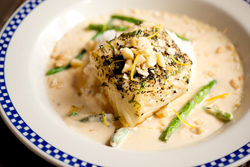 "Sustainability is very personal to me. I will do everything I can to ensure that my grandchildren and my grandchildren's grandchildren will have wild, natural and Sustainable Seafood to eat and enjoy forever more." Duke Moscrip
Seattle, WA (PRWEB) June 29, 2015
Duke's Chowder House is known for keeping things fresh and its new menu released last week has accomplished just that. Featuring brand new items added to the seafood restaurant's list of token fan favorites and staple dishes–including, of course, its Award Winning Clam Chowder and other variations–the menu is now available at all six of its Northwest-based locations and accessible on Duke's website.
The highly-renowned Washington state seafood chain has recently been recognized in the media for its sustainable seafood efforts–a cause near and dear to Owner Duke Moscrip's heart. He commented, "sustainability is very personal to me. I will do everything I can to ensure that my grandchildren and my grandchildren's grandchildren will have wild, natural and Sustainable Seafood to eat and enjoy forever more."
Duke established DukeWorthy™ standards in order to ensure that the ingredients used in all of his restaurants' dishes are of the highest quality–healthy, fresh tasting, eco-friendly and–last but certainly not least–packed with flavor. The menu speaks for itself with dishes limited to only sustainable seafood, grass-fed beef, cage-free chicken, all-natural ingredients and locally-grown organic fruits and vegetables when available.
The restaurant entrepreneur goes as far as to travel to Alaska for fishing adventures to oversee every step of the way- from watching the fish being caught to watching them being processed for shipment and preparation for his restaurants back in Washington. Needless to say, Duke doesn't skimp on the details–his guarantee is good food that's also good for you.
Together, Duke's Chowder House Executive Chef "Wild" Bill Ranniger and Duke devised several unique new dishes that highlight the fresh taste of ingredients and demonstrate the creativity behind their culinary masterminds. Each dish is created with their vision for exceptional quality in mind.
In addition to its regular menu, Duke's Chowder House has also recently released a new "Fresh Sheet," the restaurant's featured menu of specials that it changes every 2-3 months. Son and partner, John Moscrip says, "this time around, our theme of the selection is "Succulent Salmon and Heavenly Halibut" with delectable items such as the Salmon Cherries Everywhere (broiled Wild Alaska Salmon with local Washington cherries in a Grand Marnier butter sauce) and Tempting Thai Ginger Halibut (seasoned and topped with toasted macadamia nuts in a coconut milk broth, fresh ginger and white sticky rice). Guests are going wild over these dishes."
Other tasty dishes and descriptions along with the rest of the current Fresh Sheet can be found under the "Current Fresh Sheet" section of Duke's website.
Learn more about Duke's Chowder House, its new menu and its sustainable seafood efforts by checking out its website at DukesChowderHouse.com.
For media inquiries, contact Tina Carey at askbettina(AT)gmail.com.
About Duke's Chowder House:
Dedicated to bringing its customers the best every day, Dukes Chowder House operates six restaurants throughout the Puget Sound region and boasts membership of 195,000 in its popular VIP club. Founder and Owner Duke Moscrip – together with his son and partner John Moscrip – continue their passionate journey to source all wild, natural, healthy and fresh tasting ingredients. Duke's food is free of hormones, antibiotics and free of harmful chemicals. Moscrip pioneered the concept of "ice chilled, better than fresh seafood." Duke's is an upscale, casual Pacific NW seafood concept offering signature, flavorful, 100% sustainable wild seafood, Award Winning Chowder and grass fed burgers in a gathering place that is friendly, comfortable, unpretentious and filled with personality. Guests sum up their favorable assessment of what Duke's Chowder House has to offer with three words: "It's sooo good!" Duke's is honored to have received the highest seafood restaurant rating in the State of Washington by Fish2Fork, a leading evaluator of worldwide seafood restaurants, garnering a 4.5 out of 5 (no higher rating in the world). Learn more and join the VIP club at Duke's Chowder House.