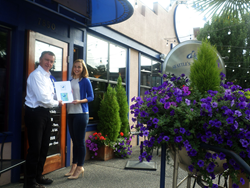 No one deserves this honor as much as Duke. It's really rewarding to see his efforts be recognized and commended by such a revolutionary initiative in sustainability." Executive Chef, "Wild" Bill Ranniger
Seattle, WA (PRWEB) July 31, 2015
Duke's Chowder House is proud to be among the first restaurants in Seattle to be recognized with a 100 percent volume compliance rating for its seafood sustainability efforts by Smart Catch, a new sustainable seafood program that was created with chefs for chefs to help increase sustainable seafood consumption and support environmentally sustainable fishing practices. The program aims to address the main barriers to getting sustainable seafood to a diner's plate--from reliable sources to chef training and consumer awareness. The criteria are based, in part, from two already recognized standards – Monterey Bay Aquarium's Seafood Watch program and the NOAA Fisheries' Federal Fish Stock Sustainability Index. Restaurants that reach 100 percent volume compliance receive special notice on their member seal according to Smart Catch criteria.
The Smart Catch program was founded relatively recently by American philanthropist, inventor, Seahawks owner and innovator Paul Allen–best known for co-founding Microsoft alongside Bill Gates. As a long-time supporter of ocean and marine life preservation, Allen designed the program to create awareness and increase demand for sustainable seafood amongst the public, in turn promoting the adoption of stricter vendor provisions by restaurants.
To highlight its commitment to sustainability, Duke's will be participating in Sustainable Seafood Week, August 2-8, 2015. Diners can enjoy delectable, sustainable seafood dishes like Salmon Cherries Everywhere, Tempting Thai Ginger Halibut and Walk The Plank Wild Alaska Salmon and Halibut at any of their six locations.
In a recent conversation about his sustainable seafood program restaurant owner, Duke Moscrip stated, "I have passion for many things and 100% wild, sustainable seafood is a big thing to me. I believe in this so much that over the years I have developed close relationships with the fishermen and fisherwomen from whom we purchase our seafood. These relationships are incredibly important to me. I consider these men and women to be friends and a fundamental part of what makes Duke's so great. Together, we have created a tightly controlled ocean-to-table story that brings in the freshest tasting seafood commercially available. We are extremely proud to work with these fine, hard-working people and are passionate about how our seafood is harvested, transported and served at Duke's and it will continue to be the best you will find anywhere." He adds, "we are honored to be among the first recipients of the 100 percent sustainable seafood rating and we will proudly display the Smart Catch sticker on our front door at all of our six locations."
Today's consumers increasingly want to know where their food comes from and are driven to consume sustainable, organic and natural offerings (Technomic Study, 2014). Duke's Chowder House has been dedicated to sustainable sourcing since the mid-eighties long before it was fashionable. Its promise to offer exceptional quality and value has as much meaning to Duke and his son and business partner John Moscrip as serving great food; together they are conscientious about conserving the earth's resources and preserving our ecosystem for future generations to enjoy.
Alaska Marketing Institute Marketing Director Larry Andrews recently wrote the following about Duke's. "Duke has demonstrated a level of commitment to quality and the understanding of how the Alaska seafood industry works; from harvesting and processing to responsible fisheries management that is truly unparalleled. Duke's approach to seafood is something that is rarely seen in today's fast paced world. He has traveled extensively in Alaska and spent untold hours on the fishing grounds working directly with fishermen and processors to improve and build on sound handling techniques to ensure his restaurants deliver the highest quality seafood possible."
"No one deserves this honor as much as Duke. It's really rewarding to see his efforts be recognized and commended by such a revolutionary initiative in sustainability. He's been committed to the cause for three decades–providing an exemplary standard that all owners ought to strive towards," commented Executive Chef "Wild" Bill Ranniger.
Duke has been on numerous sourcing excursions including a recent trip to Alaska aboard Captain Bob Starr's fishing vessel, the Northern Endurance, to witness cod fishing in-action. People can watch videos documenting Duke's adventures on Duke Moscrip's YouTube channel.
For media inquiries, contact Tina Carey at askbettina(AT)gmail.com.
About Duke's Chowder House:
Duke's Chowder House is a family owned and operated enterprise with six different locations throughout the Puget Sound region. Renowned for its Award Winning Clam Chowder, Duke's menu is filled with delectable seafood dishes crafted by Duke and Duke's very own Executive Chef "Wild" Bill Ranniger–a proclaimed culinary genius in the region. Founder and Owner Duke Moscrip – together with his son and partner John Moscrip – continue their passionate journey to source all wild, natural, healthy and fresh tasting ingredients. Duke's food is free of hormones, antibiotics and free of harmful chemicals. Duke's is an upscale, casual Pacific NW seafood concept offering signature, flavorful, 100% sustainable wild seafood, Award Winning Chowder and grass fed burgers. Guests sum up their favorable assessment of what Duke's Chowder House has to offer with three words: "It's sooo good!" Duke's is honored to have received the highest seafood restaurant rating in the State of Washington by Fish2Fork, a leading evaluator of worldwide seafood restaurants, garnering a 4.5 out of 5 (no higher rating in the world). Duke's is equally honored to be among the first restaurants in Seattle to be recognized with a 100 percent volume compliance sustainable seafood rating from Smart Catch, a program designed to promote sustainability and raise consumer awareness regarding sustainable seafood options. Learn more and join Duke's VIP club at Duke's Chowder House.