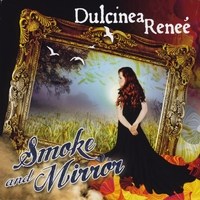 She has incredible vocal ability that could easily propel her into Colbie Caillat or even Corrine Bailey Rae stardom as she grows as an artist in the coming years. - WLUR 91.5 FM
Seattle, WA (PRWEB) August 16, 2013
Dulcinea Renee, releases her newest album "Smoke and Mirror" this summer. With influences such as Ingrid Michaelson, Adele, and Brandi Carlisle, Dulcinea has created an album that she says has given her direction in a time of uncertainty, and she hopes listeners will feel the same. "That's what I want it to do for others, besides the obvious - which is to have fun listening and taking in all the awesome instrumentation and lyrics!" Following the release of her debut album, Good Things, at the tender age of sixteen, she has achieved honors such as being chosen as the lead vocalist for the theme song of an upcoming talk show, as well as raising funds for cancer at her CD release party with her song "Hold Your Head Up" in 2012.
"Smoke and Mirror" is packed with powerful rootsy/pop lilted hooks and is sure to captivate listeners everywhere. Dulcinea's sound is smooth yet earthy, throughout, with just a taste of country.  Dulcinea hopes that "Smoke and Mirror" will relate to listeners on a personal level, inspire romance, intimacy, and healing. Dulcinea has been gaining exposure through her frequent gigs at local venues, as well as larger shows such as the Puyallup Fair and the Tacoma Freedom Fair.
"Smoke and Mirror" was recorded at Radio Poet Productions, produced by Chelsi Lee Marie, and mastered by Levi Seitz of Black Belt Mastering.
You can learn more about Dulcinea Renee at http://www.dulcineareneemusic.com/.
For more information, images, or to arrange for an interview with Dulcinea Renee, please contact Melissa Zeigler at Powderfinger Promotions: melissa(at)powderfingerpromo(dot)com.
Powderfinger Promotions–Independent Radio Promotion and Publicity. Since being founded in October 1994, Powderfinger has come to be regarded as a top indie radio promotion and publicity firm with ties across North America.