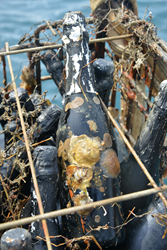 The wine is not asleep, it is merely resting.
Milano (PRWEB) May 28, 2015
So far, over a period of 5 years, 16,000 bottles of sparkling wine Dulcis Mare™, sort Ribolla that was brought to Collio region by the Romans in the 4th century, have been submerged.
Upon tasting the Dulcis Mare™ sparkling wine, aging in the sea for 1 to 5 years, the enologist Paolo Pineschi from Gorizia was impressed by the sea-aging idea, as well as the wine's taste. "The aging at the seabed is completely different from aging in traditional cellars. The sea temperature is constant throughout the year and does not oscillate for more than two degrees. The movement of the sea keeps the wine alive. In addition, there is no wine oxidation since the seawater prevents the air to access the bottle."
»The wine is not asleep, it is merely resting. The sea waves preserve the wine vibrant and crisp, never weary«, says Igor Tomažič owner of vineyards and a winery where Dulcis Mare™ sparkling wine is produced.
Each bottle of Dulcis Mare™ wine is unique and genuine work of art as abundant marine life embellishes bottles with shells, corals and algae. Neatly packed into oak wood gift boxes designed in the shape of a wave the bottles wait to be tasted and enjoyed at special occasions by wine lovers and connoisseurs.
Reservations for the 2015 wine harvest to be sea-aged can be made –a registry No. of the bottle to be submerged in the autumn is received.
Wine is only available in carefully selected restaurants around the world.
Additional information:
Dajana Gutesa
Marketing Dulcis Mare
E: info(at)dulcis-mare.com, dajana(at)dulcis-mare.com,
M: or +386 31 379 444 or +386 41 632 756
http://www.dulcis-mare.com