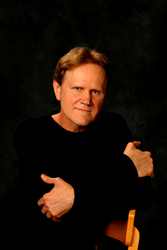 ...He will overwhelm you with virtuosity, touch you with a tender melody, and warm your heart with humorous and inspiring stories.
Gettysburg, PA (PRWEB) August 14, 2014
This Sunday, world class composer/pianist Michael Dulin will enjoy the opportunity to fulfill two of his goals: to touch people's hearts with his music, and to support literacy. Thanks to his friend and fellow pianist/composer Greg Maroney of Dover PA, the two will share their special talents in benefiting the East Berlin Community Library's capital campaign to expand and renovate the current library facility. The concert is on Sunday, August 17, 2014 at 2:00PM at the Lutheran Theological Seminary Chapel, 147 Seminary Ridge, Gettysburg, PA 17325. Tickets are $30, including a reception with refreshments, and are available to the public via http://eastberlinlibrary.brownpapertickets.com or by visiting the East Berlin Community Library.
Dulin is internationally acclaimed as a pianist, composer and producer whose music is so much more than entertainment. In concert, he overwhelms with virtuosity, touches with a tender melody, and warms one's heart with humorous and inspiring stories. Like the best friend who always knows the right thing to say, Dulin's music warms the heart and touches the soul just when it's needed. From the age of two, it was apparent that Dulin had an exceptional gift for music. The Julliard graduate was voted audience favorite in the Carnegie Hall International Piano Competition, and was awarded the Silver Medal in the Second Annual International Audio-Video Competition in New York. In addition to performing his original music throughout the United States, he appears both solo and with orchestra in performances of classical music. He has also toured as keyboardist with the legendary Motown group, the Temptations.
The library fundraising project is a special event for both Dulin, who volunteers weekly as a literacy tutor, and Maroney, a local resident and self-described Modern Romantic solo pianist who has composed and recorded 12 CDs of original piano music. In the Spring of 2015, the two artists will embark on a tour of the Northwestern U.S. to play a series of venues.
The East Berlin Community Library's capital campaign began in March 2013 to raise the $1.3 million dollars needed to expand and renovate the current facility to more than double its present size, while also addressing serious issues of library service that the current library cannot provide. These issues are space for library programming, public meeting space, and quiet study areas for the patrons. The library's technology offerings will also be upgraded with more public internet stations, children's learning computer stations, and more friendly space for patrons to bring in their own devices to work.
Links:
http://www.michaeldulin.com
http://www.gregmaroney.com
http://www.adamslibrary.org
Artist PR Contact:
Beth Ann Hilton
THE B COMPANY
bethhilton(at)thebcompany(dot)com
310-560-8390
Library Contact:
Brandt A. Ensor, Director
East Berlin Community Library
eblib(at)adamslibrary(dot)org
717-259-9000