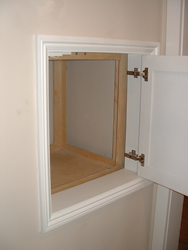 Easy installation also makes the dumbwaiter product line convenient.
Lewisberry, PA (PRWEB) March 30, 2014
Butler Mobility Products has a diverse and newly re-engineered line of electric dumbwaiters. Butler has created modular dumbwaiters to offer the highest quality, flexibility and value for customers. Featured in eight standard styles and sizes, Butler Mobility can also custom designs dumbwaiters for home and business use.
The many different models range in load capacity, from 100 to 450 pounds, and also can go up seven stories. Made in the United States, the company's modern engineering techniques, coupled with superior materials, make the dumbwaiters reliable and flexible for any need.
Customers have used the models for commercial, restaurant and residential applications. Feature by feature, including steel framing and a spill-proof liner, the dumbwaiters are designed to last and to also be one of the best values on the market.
Three varieties of car gates are available with each dumbwaiter, including vinyl vertical-rising, bi-parting aluminum and steel or stainless steel roll-top. Some of the models can accept food carts and can also be loaded at floor level, making transporting items and food quick and in compliance with food service standards.
Easy installation also makes the dumbwaiter product line convenient. The heavy gauge steel guide rails are simple to install. Included in the kit is a step-by-step installation manual, to help speed up the setup even more.
Butler Mobility is one of the most trusted manufacturers of dumbwaiters in the industry, manufacturing dumbwaiters since 1958.
Butler Mobility can help find the option to fit your needs---whether you need a dumbwaiter for residential, commercial or food service usage.
Visit http://www.butlermobility.com/product/dumbwaiters/ for more information.
Media Contact
Patricia Small
717-938-4253
psmall(at)butlermobility(dot)com