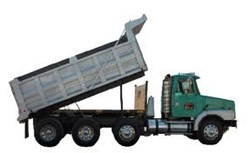 The display of the quotes information using our online-only system is part of a new project to introduce American insurers to companies of all sizes in the trucking industry
St. Louis, Missouri (PRWEB) December 06, 2013
The commercial truck driving industry is a mixture of owner operators and staff truckers who use the roadways in the U.S. 365 days a year. The Auto Pros company is now connecting truck owners with ways to find cheaper dump truck insurance online at http://www.autoprosusa.com/insurance.
This automotive system is designed for independent operators of dump trucks or small business owners who have a need to find a less expensive policy. The commercial insurance industry can have higher rates for drivers compared to the consumer industry based on the liability of risk during deliveries or long-haul travel.
The Auto Pros system has been redesigned to include more commercial insurance providers in all of the 50 U.S. states. The dump truck insurer rate quotes that are viewable when a driver uses the new system for research online are accurate at the time of display.
"The display of the quotes information using our online-only system is part of a new project to introduce American insurers to companies of all sizes in the trucking industry," said a source for the Auto Pros company.
One benefit of the updated system that is publicly available to commercial truck drivers online is the security of using this system to anonymously research insurance companies. No business or driver information is input during the use of the system to maintain an anonymous search for a person only interested in reviewing pricing.
"We're not in the data collection business and only function as a tool to introduce the rates that a small business owner or owner operator could pay when trying to find truck insurance policies," added the source.
Researchers who use the Auto Pros website for insurance also have access to the additional company tools online. The aftermarket and preowned auto parts database remains available to deliver truck parts pricing. The locator tool useful for finding truck repair warranty insurance is accessible at http://www.autoprosusa.com/auto-warranty.
About AutoProsUSA.com
The AutoProsUSA.com company is now quoting insurance policies for passenger cars, luxury vehicles, pickup trucks and commercial vehicles online. This company works with small and large insurance providers to generate the quotes that the public can use when reviewing insurer pricing. The AutoProsUSA.com company continues to refer consumers to part resources online using the tools that are offered for public use. This company has fulfillment agreements with hundreds of different companies to ensure that low pricing and fast delivery is available for consumers.