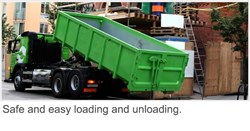 Fort Lauderdale, Florida (PRWEB) February 20, 2014
The NAABO award was given to dumpsterrentaldisposalbins.com/ as they provide the best customer service and low prices for dumpster and disposal bin rentals throughout the entire continental United States.
This award is presented every ten years to a waste management corporation that is able to meet stringent requirements such as: 24 hours customer service, same day delivery of dumpsters for rent, and over 100 positive reviews from previous clients.
Dumpster Rental and Disposal Bins waste management division provides residential and commercial disposal bins. Thanks to a proprietary software created by their in house engineers they are able to help users find the right size dumpster that will help them with their project and schedule delivery and payment details with one seamless phone call.
The most popular dumpster bins come in 20 yards, 30 yards, and 40 yards and can be rented anywhere from Los Angeles, California to Boston down to Miami, Florida.
Company President Matt Groth said that the demand for high quality and honest dumpster rental services continues to grow and being the leader in the industry is important to not only himself but to his thousands of clients.