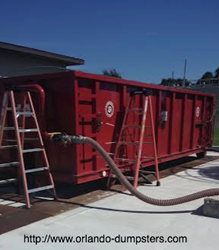 We're happy to be providing hauling services for a commendable and cost efficient project like this.
Orlando, FL (PRWEB) October 28, 2014
Orlando dumpster rental company Sunshine Recycling is currently providing their hauling services to a town in Florida called Lady Lake, which is a part of the Orlando—Kissimmee—Sanford metropolitan area.
The town of Lady Lake has around 14,000 residents and is devoted to helping the environment. They recently contacted Sunshine Recycling for their assistance and hauling services, because the town is now transforming the human waste from residents and storing it in sludge containers. These containers transform the liquid waste into a dirt-like substance, which can be recycled into fertilizer. Sludge containers are built specifically for storing human waste with welded insides and sealed edges.
Sunshine Recycling is providing the town with their hauling services for the next five years. Recycling human waste in a sludge container as opposed to traditional disposal methods saves Lady Lake thousands of dollars each year.
Sunshine Recycling is extremely qualified in the field of recycling properly and efficiently. The company is LEED certified by the United States Green Building Council (USGBC) and has participated in numerous green building projects. Sunshine is usually capable of recycling at least 98% of all debris.
"The town of Lady Lake is leading the environmental charge in the metro Orlando area," said Chuck Herb, owner of Sunshine Recycling. "We're happy to be providing the hauling services for a commendable and cost efficient project like this."
About Sunshine Recycling of Orlando:
Sunshine Recycling Inc. of Orlando is a dumpster rental company servicing central Florida. Offering various sizes of dumpsters including front-load, roll-off and full-size construction dumpsters, Sunshine Recycling also provides recyclable, waste and construction debris collection and hauling services and trash compactors. The company is a proud member of the U.S. Green Building Council and is LEED AP certified. For more information about construction dumpsters from Sunshine Recycling, please visit http://www.orlando-dumpsters.com/construction-dumpsters/.