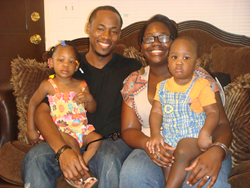 "Coastal Coalition for Children has many different programs but we decided to direct our efforts to the First Steps program because we felt compelled to help secure a safe future for innocent babies - even before they are born!"
McIntosh, GA (PRWEB) December 21, 2014
With an agency in Georgia, Dunagan Insurance Group divulges the beginning of a new charity campaign as part of its ongoing Community Program, now looking to raise enough funds to provide "Welcome to the World" packets to at-risk moms. In collaboration with Coastal Coalition for Children, the agency announces that those with a heart for supporting the overall wellbeing and developmental necessities of newborns and their unprivileged mothers can now join the agency's efforts by contributing through the designated donations page at http://www.razoo.com/story/Welcome-To-The-World.
In each "Welcome to the World" packet there are informative and useful literature for new moms, a colorful Baby's First Year calendar, and a local resource guide for family support agencies to mothers in need in Glynn and McIntosh counties. It also encourages at-risk moms to enroll in the Healthy Families home visitation program, which will guide families to a healthy start.
Rob Dunagan, the agency's principal, who has helped touch the lives of many other children and adults in the communities where his agency is inserted, attested, "Coastal Coalition for Children has many different programs but we decided to direct our efforts to the First Steps program because we felt compelled to help secure a safe future for innocent babies - even before they are born!"
The agency has set a goal of $425, which will allow for the purchase of 50 "Welcome to the World" packets. To achieve that goal, the agency's network of customers, business partners, friends, staff and family are being invited to actively participate by not only contributing financially, but also by helping spread the word to others.
Dunagan Insurance Group continues to employ its own resources to ensure the success of their community program. The current campaign is being promoted through the agency's social media channels, email and text message communications, as well as through their monthly magazine, delivered to thousands of households in Georgia. In fact, Our Hometown magazine reserves a full page to feature this worthy cause, including all of its details. The electronic Flipbook version of the current issue can be accessed here: http://www.gaflood.com/Our-Hometown-Magazine_34.
The donations page at http://www.razoo.com/story/Welcome-To-The-World will be kept active until the end of January, where donors can contribute. The agency will acknowledge in their monthly magazine all of those who donate a minimum of $5 to help with the purchase of the welcome packets.
Dunagan Insurance Group will continue to work with individuals and nonprofits in the area to identify new worthy opportunities to support the community, every 60 days. Through the agency's website, any members of the community can also submit information regarding known families or persons who could use some help – http://www.gaflood.com/SUBMIT-A-COMMUNITY-CAUSE-IDEA_42. Entries are diligently submitted for review, and the elected worthy causes are properly contacted by a representative of Dunagan's Community Program. More information regarding past and current campaigns supported by Dunagan Insurance Group can be found at http://www.gaflood.com/community-cause.
About Dunagan Insurance Group and The Captain Bob Foundation
Dunagan Insurance Group has been providing professional insurance services in Brunswick, GA, and the surrounding areas since 1969 including flood, auto, homeowners, condo, landlord insurance and more. To contact an expert at Dunagan Insurance Group, call (912) 265-6626.
The Captain Bob Foundation is a tax-exempt, 501(c)(3), non-profit, donor-supported organization, founded by Dunagan Insurance Group's principal, Robert Dunagan Jr., and inspired by his father's values and principles of utilizing the outdoors to treat and relief conditions and hardships faced by local children and families. The organization serves as a strong platform to support the ongoing efforts of the Agency's community programs, which are made possible through contributions from individuals, corporations and foundations.