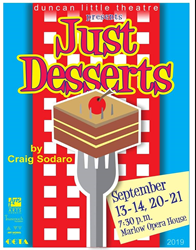 DUNCAN, Okla. (PRWEB) September 11, 2019
Duncan Little Theatre's annual "Evening of Shorts" production is coming up soon. This production will be directed by Cindy Mann and produced by Beth Ann Hough.
This year's play will be a murder mystery called "Just Desserts." Join us for a fun night of a hilarious murder mystery and homemade desserts. If you are able to figure out who did it, we doubt you will know how or why.
Synopsis: Judge Reginald P. Cogsworth, a curmudgeon who hates sweets, is judging a charity bake-off, albeit grudgingly. Countless entries have been whittled down to three: a tart submitted by Lucy "Scooter" Bright, owner of a nail salon; a Depression-era style cake by Edna Mae Carter, the local librarian; and a rich torte created by Margaret Mason, a local society lady.