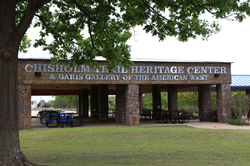 DUNCAN, Okla. (PRWEB) June 01, 2020
Howdy! About two months ago, amid all of the uncertainty, the Chisholm Trail Heritage Center decided the best way to protect guests and employees was to temporarily close their doors to the public. Though the situation is not perfect, they can now open the doors in a way that will keep everyone safe, while allowing the museum to continue providing world-class cultural experiences.
It is now time to welcome guests back to the Chisholm Trail Heritage Center, and here is how they are going to do it.
The Chisholm Trail Heritage Center, located at 1000 Chisholm Trail Parkway in Duncan, will open to the public on June 9 with both physical and operational changes that will allow guest access to most of the facility. The new operating schedule is Tuesday through Saturday from 10 am to 4 pm.
Please find all updated changes that guests should expect to experience while visiting the Chisholm Trail Heritage Center:

The number of guests is limited to 25 at a time.
Face covering or masks are required for all guests and staff while inside the Center.
Staff will assist families and groups in enjoying their time together while maintaining distance from other groups. The museum is thoroughly sanitized every day, and they have strengthened their daily cleaning schedule.
Staff continually sanitizing all areas of the museum throughout the day.
Seating in the theaters will be limited to one family or group at a time, and will be sanitized after each show.
Please be prepared to wait if the facility is already at its maximum capacity of 25 visitors. While waiting, enjoy their exterior grounds, visit the monument, explore the Chisholm Trail pathway, check out the new walking trail, or spend some time with friends and family under the portico.
Please practice social distancing while visiting the Heritage Center, both indoors and outdoors. For groups of 10 or more, please call ahead before arriving. The goal is to make sure that guests have an enjoyable and safe visit.
Giddyup. It's time to see what's new at the Chisholm Trail Heritage Center.
For questions, please call (580) 252-6692. Visitors may also email info@onthechisholmtrail.com.