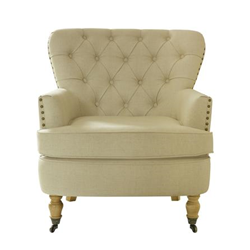 It is important when reading to have a comfortable and cosy place to sit for hours on end escaping into an imaginary world.
(PRWEB UK) 13 August 2013
As the new face of the £10 note is announced, the UK takes delight in honouring a Great British literary artist; Jane Austen. This new monetary design has sparked a renewed love and interest in some of Britain's great classic novels.
Dunelm, the UK's number one homewares retailer, offers some top tips on creating some cosy corners in the home to settle down and read a literary masterpiece.
1. Invest in a quality armchair.
The new £10 note is said to be adorned with the phrase "I declare after all there is no enjoyment like reading!" — one of the many great quotes from Jane Austen's Pride and Prejudice. Although Austen's words were written two centuries ago, the enjoyment of reading is still a great British passion today. It is important when reading to have a comfortable and cosy place to sit for hours on end, escaping into an imaginary world. Many people opt to invest in a comfortable yet stylish armchair, perfect for curling up beside the fire and delving into a literary favourite. Dunelm offers a wide range of armchairs for the ideal addition to a living room or bedroom.
2. Make a feature of your bookcases.
There is nothing more delightful to a book-lover than being surrounded by a collection of classic literature. Why not add a vintage library feel to your living room by adorning a central wall with shelves packed full of wonderful books. Not only will these bookcases provide you with a place to store your many literary works but also act as a unique focal point for the room. Many people find that introducing large floor length bookcases as a design element to the room, helping to create a cosy and homely feel. These bookshelves would be perfectly complemented by a couple of light grey armchairs and a fluffy shaggy rug to complete your personal and quiet reading space.
3. Invest in a cosy blanket.
Whether the weather is offering pouring rain or bright sunshine is adorning our skies, there is nothing more comforting than curling up under a cosy blanket whilst reading a good book. A thick and fluffy blanket is ideal for a cooler evening, wrapped up on the sofa, creating the perfect setting for some early evening reading. Alternatively a thin throw or picnic blanket is ideal for sunbathing in the park and spending hours with your literary heroes and heroines at the height of summer.
4. Add a touch more comfort to your bedding.
Many people across the UK love to spend time reading a few chapters of their favourite book before bed time. This time is precious, an hour to spend indulging in a relaxing hobby that will help you to drift comfortably off to sleep dreaming of far off adventures or love stories. Since this time to yourself can be so rare, it is important to ensure you experience the utmost comfort from both your mattress and bed linen. Investing in some quality bedding can really add that extra touch of cosiness to your bed time, with quality material such as memory foam mattress toppers and soft, comfortable V-shaped pillows to help to support your body in the most restful position whilst you concentrate on reading your book for hours on end.