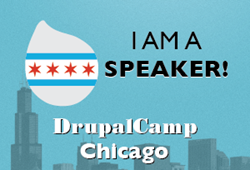 Drupal is emerging as the web development platform of choice for businesses, governments and non-profits.
Chicago, IL (PRWEB) December 04, 2013
Hundreds of Drupal developers from the Midwest will converge on UBS Towers in Chicago on Saturday, December 7th for the seventh annual 2013 DrupalCamp Chicago. While targeted at the tech crowd, the event also includes a business track to bridge the gap between technology and business strategy.
"Today there are over 1 million people in 229 countries speaking 181 languages that power Drupal," according to Duo Consulting CEO Michael Silverman. "Regularly scheduled local training events like DrupalCamp Chicago are occurring throughout the world. As a result Drupal is emerging as the web development platform of choice for businesses, governments and non-profits."
The 2013 DrupalCamp Chicago, organized by the Chicago Drupal Meetup Group (CDMUG), is structured to attract Drupal novices as well as advanced developers, site themers and designers. It is also an effective networking event serving to satisfy the needs of businesses to attract talented developers. The modest $30 registration fee is intended to minimize any barrier to attendance.
In true community spirit, volunteers eager to share their experience and grow the collective Drupal knowledge provide the training. Sessions are submitted in the categories of coding, building, designing, business and community. Team members from Duo Consulting are offering presentations on the jQuery Isotope Module and developing Front-End Style Guides with Drupal. In addition to scheduled sessions, attendees propose impromptu "birds of a feather" sessions to address highly focused interest niches.
Duo Consulting is sponsoring DrupalCamp Chicago as part of its ongoing support of the Drupal Community both locally and globally. Registration for DrupalCamp can be completed online.
About CDMUG
The Chicago Drupal Meet Up Group (CDMUG), with over 1200 members, builds bridges among nonprofits, entrepreneurs, Drupal development companies and independent consultants in Chicago. The group meets regularly to teach users and developers about the benefits of open-source software (specifically Drupal).
About Duo Consulting
Based in Chicago, Duo Consulting creates digital marketing websites and enterprise social networks that optimize the way organizations market and communicate online. Since 1999, Duo has worked to improve the website user experience for diverse brands across media, legal, education, nonprofit and other industries.