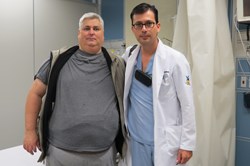 Laparoscopic Duodenal Switch Surgery is performed only by a selected number of highly trained bariatric surgeons worldwide.
Jalisco, Mexico (PRWEB) August 22, 2013
Gene Field is a 44 year old Canadian man who has lived trapped in his body suffering with extreme obesity for several years, reaching more than 450 pounds in weight and completely invalidating him to lead a normal life.
His situation was extreme and as such it required an urgent and effective solution. Gene underwent duodenal switch surgery in Mexico last month performed by leading bariatric surgeon Dr. Jose A. Castaneda Cruz, considered a worldwide eminence in laparoscopic obesity surgery. Dr Castaneda was commissioned to carry out this delicate operation that required approximately 4 hours of surgery.
Laparoscopic duodenal switch was the method used by Dr. Jose A. Castaneda to intervene this patient. This weight loss operation reduces the stomach capacity (patient eats less) and crucially amends intestinal absorption through a gastrointestinal bridge (decreasing the absorption food) thus achieving weight loss.
Currently, laparoscopic duodenal switch is the most powerful and effective method for treating extreme obesity and type 2 diabetes.
It is important to emphasize the intervention was performed laparoscopically, as such delicate intervention is performed only by a selected number of highly trained bariatric surgeons worldwide, due to its technical complexity.
"By next month Gene may lose up to 70% of body weight and he should be followed closely by a nutritionist and a psychologist, to help him overcome any potential complications such as malnutrition," says Dr. Jose A. Castaneda Cruz. "The change experienced by the patient happens so fast that psychological assessment after surgery is most definitely recommended to help him adjust to a new and much lighter body."
DuodenalSwitchinMexico.com and GastricBypassMexico.com unite a group of weight loss surgeons and medical professionals specializing in laparoscopic surgery for obesity, commanded by Dr. Jose A. Castaneda Cruz. To their credit they have successfully performed over 5,000 interventions for weight loss surgery in Mexico.
Watch Gene's video testimonial.