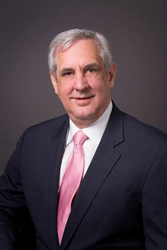 At this year's event, Naperville DUI attorney Donald J. Ramsell's seminar focused on the testing of blood and urine for evidence of drugs and alcohol.
Naperville, Illinois (PRWEB) April 21, 2017
The DuPage County law firm of Ramsell & Associates, LLC is pleased to announce that Founding Attorney Donald J. Ramsell recently presented at the American Academy of Forensic Sciences Annual Symposium. The annual meeting was held at the Hyatt Regency in New Orleans, Louisiana from February 13-18. According to its mission, The American Academy of Forensic Sciences "is a multidisciplinary professional organization providing leadership to advance science and its application to the legal system."
This year marked the 69th Scientific Annual Meeting which was entitled: "Our Future Reflects Our Past: The Evolution of Forensic Science." More than 4,000 national and international forensic professionals attended to discuss and learn about advances that will affect forensic science moving forward. The sessions covered 11 different disciplines of forensic science including a range of human, technical, medical, and scientific endeavors as they are applied to civil disputes and
criminal investigations.
Ramsell has experience presenting at criminal law seminars throughout Illinois and across the country. For the annual meeting his presentation was entitled "Method Validation and Legal Admissibility." His seminar focused on the testing of blood and urine for evidence of drugs and alcohol.
Naperville DUI lawyer Donald J. Ramsell is the founding attorney of Ramsell & Associates, LLC. Ramsell received his Juris Doctor from DePaul University in Chicago. He brings 25 years of criminal defense experience to his practice, and he has defended over 10,000 DUI cases throughout his legal career. Ramsell is Board Certified in DUI Defense, and has authored over 30 publications related to criminal defense. Most recently, in 2016, he authored, "Illinois DUI Law and Practice Guidebook."
Ramsell is a Sustaining Member of the National College for DUI Defense (NCDD), and is a past president of the DuPage County Bar Association and DuPage County Criminal Defense Lawyers Association. In 2016, he received the "AVVO Client's Choice Award" for his outstanding work in the area of DUI/DWI defense. Additionally, Ramsell has been recognized as an Illinois Super Lawyer for 11 straight years, which places him among the top five percent of attorneys in the state.
Ramsell has been featured as a legal analyst on media programs and publications across the country. He has appeared on NBC, FOX, CBS, ABC, CNN, and in The New York Times and the Washington Post.
About Ramsell & Associates, LLC:
Ramsell & Associates, LLC has served the Chicagoland area for over 25 years. Founding Attorney Donald Ramsell and his team have successfully defended over 13,000 drivers since the firm's establishment in 1986.
The team of experienced Illinois criminal defense attorneys at Ramsell & Associates, LLC handles cases related to: DUI defense, traffic violations, drug crimes, white collar crimes, juvenile offenses, felony charges, and expungements and sealing. The firm represents clients throughout Northern Illinois including the towns of Naperville, Wheaton, Downers Grove, Lisle, Glen Ellyn, Carol Stream, and Lombard. Call 1-800-DIAL-DUI or visit http://www.dupage-dui-attorney.com for more information.