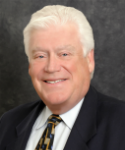 Attorney E. Lawrence ("Larry") Oldfield joins Wheaton law firm as partner to form Stock, Carlson, Oldfield & McGrath LLC.
Wheaton, IL (PRWEB) November 12, 2015
DuPage County Attorney Larry Oldfield has joined with John P. Stock III, Kurt A. Carlson, and William V. McGrath to form the law firm of Stock, Carlson, Oldfield & McGrath LLC. Oldfield brings with him extensive transactional and litigation experience.
Oldfield comes to Stock, Carlson, Oldfield & McGrath LLC from managing his previous law firm, Oldfield & Fox, P.C., located in Oak Brook, Illinois. He obtained his J.D. from DePaul University College of Law in Chicago, and obtained his B.A. from Northern Illinois University after serving three years in the U.S Army, mostly with the 3rd Missile Battalion, 21st Field Artillery. Prior to attending law school, he was a federal agent for two years, working on pattern and practice civil rights cases in a ten state region with DHUD, coordinated with the U.S. Justice Department. He has extensively travelled throughout the world, including Eastern and Western Europe and as part of an archaeological expedition in the Middle East.
Oldfield concentrates his practice in business law, real estate, wills and trusts, and civil litigation matters. Over the past 42 years, he has successfully represented clients in 26 states and 19 federal jurisdictions, many involving the sale and purchase of stolen and mortgaged livestock, including many cattle rustling cases. Oldfield has also been attorney of record for 15 reported appellate cases within the United States, one of which was appealed to the U.S. Supreme Court by his opponent unsuccessfully. He also served as a trained mediator previously for U.S A. & M and Resolute Systems.
Oldfield maintains an AV-Preeminent rating from Martindale-Hubbell, which signifies the highest level of professional legal excellence. The Livestock Marketing Committee of the National Cattlemen's Beef Association (NCBA) has recommended Oldfield as the preferred legal counsel within the United States. He is a member of the American Bar Association, Illinois State Bar Association, Chicago Bar Association, and the DuPage County Bar Association.
Oldfield has also been very active in community activities, currently as a member of the Oak Brook Chamber of Commerce and previously as president of the Executives' Breakfast Club of Oak Brook, member of District 41 School Board and as trustee of the Village Board of Glen Ellyn. He is also a broker with his wife, Kaaren, at Keller Williams in Glen Ellyn and is the proud father of two daughters, Kimberly Oosterhouse and Lauren Oldfield, and the proud grandfather of Kyle and Lindsey Oosterhouse of Wheaton.
About Stock, Carlson, Oldfield & McGrath LLC:
The law firm of Stock, Carlson, Oldfield & McGrath LLC is located in Wheaton, Illinois. The veteran DuPage County attorneys handle legal matters pertaining to family law, estate planning, business law, and real estate.
The firm offers knowledgeable and effective representation to both individuals and businesses located within the greater Chicago area, including Chicago and the counties of DuPage, Cook, Kane, Will and Lake Counties.
The skilled attorneys at Stock, Carlson, Oldfield & McGrath LLC bring over 164 years of legal experience to the practice. Call 630-665-2500 or fill out the online contact form to consult with an attorney regarding your legal needs today.