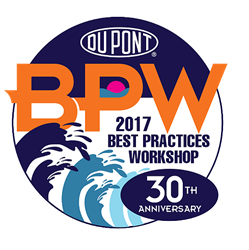 The enthusiasm and passion our customers bring to this event always ensures lively discussions and workshop success. We can't wait to see everyone again in California!
WILMINGTON, Del. (PRWEB) September 23, 2016
The DuPont 2017 Best Practices Workshop (BPW) to be held in Ojai, California from May 1-4, 2017, marks the event's 30th anniversary, attracting new and returning participants every year. Over the years it has grown in size to bring together as many as 100 participants looking for sulfuric acid alkylation training and the latest technology innovations from DuPont.
Designed to address all aspects of sulfuric acid alkylation, the 2017 workshop will examine topics from regulatory challenges to today's market conditions, and alkylation chemistry to equipment reliability and inspection. New in 2017 is an Operations Roundtable session in which operators will have the opportunity to discuss specific troubleshooting scenarios. Discussions in this new session will focus on how to identify a unit upset, how to respond and where to look for root causes.
The workshop further covers topics including technology configuration and selection, technical design considerations, operations and maintenance, as well as technology troubleshooting and performance optimization. Led by STRATCO® subject matter experts, this workshop is ideally suited to technology specialists, engineering supervisors, engineers and operations personnel.
"BPW was a tremendous experience. It provided the ideal forum for learning and information sharing among the top subject matter experts in the business. Attendance will definitely enhance the performance of your Process/Operations Team," said 2015 participant Vivayanand Soobnarine, team leader at Petrotrin Refinery in Trinidad.
Jeannie Branzaru, marketing and communications leader for DuPont Clean Technologies, said, "We are fortunate to have the best customers in the world. Time and time again we hear that one of the best parts of our workshop is the interaction that participants have with one another. Where else can you get a large group of alkylation experts and practitioners in the same room? The enthusiasm and passion our customers bring to this event always ensures lively discussions and workshop success. We can't wait to see everyone again in California!".
For more information and to register, visit http://www.dupontbpw.com.
The DuPont Clean Technologies division applies real-world experience, history of innovation, problem-solving success, and strong brands to help organizations operate safely and with the highest level of performance, reliability, energy efficiency and environmental integrity. The Clean Technologies portfolio includes STRATCO® alkylation technology for production of clean, high-octane gasoline; IsoTherming® hydroprocessing technology for desulfurization of motor fuels; MECS® sulfuric acid production and regeneration technologies; BELCO® air quality control systems for FCC flue gas scrubbing, other refinery scrubbing applications and marine exhaust gas scrubbing; MECS® DynaWave® technology for sulphur recovery and tail gas-treating solutions; and a comprehensive suite of aftermarket service and solutions offerings. Learn more about DuPont Clean Technologies at http://www.cleantechnologies.dupont.com.
DuPont (NYSE: DD) has been bringing world-class science and engineering to the global marketplace in the form of innovative products, materials and services since 1802. The company believes that by collaborating with customers, governments, NGOs and thought leaders we can help find solutions to such global challenges as providing enough healthy food for people everywhere, decreasing dependence on fossil fuels, and protecting life and the environment. For additional information about DuPont and its commitment to inclusive innovation, please visit http://www.dupont.com.
# # #
9/23/16
The DuPont Oval Logo, DuPont™ and all products denoted with ® or TM are registered trademarks or trademarks of E.I. du Pont de Nemours and Company or its affiliates.