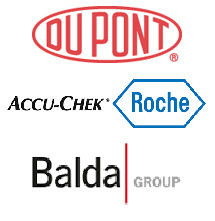 GENEVA (PRWEB) February 01, 2017
Roche Diabetes Care, the world's leading company in diabetes management, selected low-friction DuPont™ Delrin® acetal homopolymer from DuPont Performance Materials (DPM) for its renowned insulin placement assistant named the Accu-Chek® LinkAssist Plus.
The Accu-Chek® LinkAssist Plus insertion device helps to insert an infusion set easily and virtually pain free, even at hard to reach places on the body. Its integrated safety release prevents accidental insertion.
The excellent flow characteristics of Delrin®, in conjunction with its good dimensional stability and mechanical properties, make it the ideal material for producing small and thin parts that are both cost-effective and create minimal waste in the manufacturing process. "In this application, the low friction characteristics and spring-like behavior of Delrin® contribute to the smooth and fast operation of the device, which has four key components in the mechanism -wing front, primer, latch lock and slider-" ensures Laurent Hanen, Healthcare Segment Leader at DuPont Performance Materials.
The development of this application would not have been possible without the close collaboration of Balda Group, Roche Diabetes Care, and DuPont. André Nadrowski, Product Manager at Balda Medical GmbH and Co.KG states, "In the healthcare industry, products need to meet high standards in the areas of quality, reliability and performance. This is why we have decided to go with DuPont™ Delrin®, as it features excellent friction performance, spring effect, and molding capabilities. DuPont's expertise in product knowledge and application development was key in this program as it enabled us to meet Roche Diabetes Care's stringent requirements and deadlines."
Depending on the specific application, DuPont can deliver an appropriate solution from either its broad range of standard products, or from its portfolio of "Special Control" (SC) and "Premium Control" (PC) grades. These SC and PC grades are differentiated by having a greater degree of testing, manufacturing control and regulatory support. These are also compliant with USP Class VI, ISO 10993-5 and -11 standards, and are manufactured according to Good Manufacturing Practice (GMP) guidelines.
For more information on DuPont specialty plastics for medical devices, please visit here.
For more information on the Roche Accu-Chek® system, please visit http://www.accuchek.com.
DuPont Performance Materials (DPM) DuPont Performance Materials (DPM) is a leading innovator of thermoplastics, elastomers, renewably-sourced polymers, high-performance parts and shapes, as well as resins that act as adhesives, sealants, and modifiers. DPM supports a globally linked network of regional application development experts who work with customers throughout the value chain to develop innovative solutions in automotive, packaging, construction, consumer goods, electrical/electronics, and other industries. For additional information about DuPont Performance Materials, visit plastics.dupont.com.
DuPont (NYSE: DD) has been bringing world-class science and engineering to the global marketplace in the form of innovative products, materials, and services since 1802. The company believes that by collaborating with customers, governments, NGOs, and thought leaders we can help find solutions to such global challenges as providing enough healthy food for people everywhere, decreasing dependence on fossil fuels, and protecting life and the environment. For additional information about DuPont and its commitment to inclusive innovation, please visit http://www.dupont.com.
# # #
2/1/17
The DuPont Oval Logo, DuPont™, and all products denoted with ® are trademarks or registered trademarks of E.I. du Pont de Nemours and Company or its affiliates.