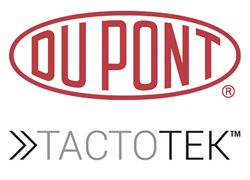 The anticipated DuPont and TactoTek IME solutions will allow user interface designers and engineers to create touch control surfaces that are beautiful, functional, and durable.
WILMINGTON, Del. (PRWEB) June 20, 2017
DuPont Electronics and Communications (DuPont), a leader in electronic materials, and TactoTek, a leading designer and producer of injection molded electronics (IME) solutions, today announced they are collaborating to meet the growing demand for IME solutions. DuPont plans to offer advanced materials and TactoTek plans to offer innovative designs that will work together focusing on touch controls, illumination, and connected intelligence for automotive and home appliance markets.
"The anticipated DuPont and TactoTek IME solutions will allow user interface designers and engineers to create touch control surfaces that are beautiful, functional, and durable. The resulting parts can significantly reduce the weight, assembly effort, and overall cost of the product," said Michael Burrows, global venture leader, DuPont. "DuPont is very excited to extend and enhance our collaborations with TactoTek to bring these compelling solutions to customers."
IME integrates flexible circuitry and electronic components into three-dimensional molded plastics. By printing circuits directly onto plastic substrates, product designers can integrate touch controls, lighting, and antennas in applications such as washing machines, dryers, refrigerators, as well as automotive consoles, dashboards, steering wheels and armrests. An IME control panel eliminates complex, thick, and heavy multi-layer assemblies typical of traditional electronics designs and can be as thin as 2mm. DuPont and TactoTek's collaboration is resulting in the advancement of materials, design, prototyping, and fabrication processes for IME.
"By encapsulating the complexity of numerous discrete sub-parts into a single solution, IMSE technology greatly simplifies electronics integration and offers new degrees of design freedom," noted Dave Rice, senior vice president, marketing at TactoTek. "Together with DuPont, we can educate designers and engineers about IME design rules so they can access the full benefits of the technology. Several customer projects are already underway, and we are excited to expand our customer base in conjunction with DuPont."
TactoTek is a leading provider of solutions for Injection Molded Structural Electronics (IMSE) that integrate printed circuitry and electronic components into 3D injection molded plastics. Leading use cases include in-vehicle applications, home/industrial appliances, and wearable technology. TactoTek adapts customer designs to IMSE technology, develops mass production ready prototypes, and mass produces or licenses the technology for 3rd party mass production. TactoTek is funded by Conor Venture Partners, Faurecia Ventures, VTT Ventures, Leaguer VC, private angels, TEKES, and European Union's Horizon 2020 Research and Innovation Programme. For more information, please visit http://www.tactotek.com.
DuPont Electronics & Communications is a leading innovator and high-volume supplier of electronic inks and pastes that offers a broad range of printed electronic materials commercially available today. The growing portfolio of DuPont electronic inks is used in many applications, including forming conductive traces, capacitor and resistor elements, and dielectric and encapsulating layers that are compatible with many substrate surfaces including polymer, glass and ceramic. For more information, visit http://www.advancedmaterials.dupont.com.
DuPont (NYSE: DD) has been bringing world-class science and engineering to the global marketplace in the form of innovative products, materials, and services since 1802. The company believes that by collaborating with customers, governments, NGOs, and thought leaders we can help find solutions to such global challenges as providing enough healthy food for people everywhere, decreasing dependence on fossil fuels, and protecting life and the environment. For additional information about DuPont and its commitment to inclusive innovation, please visit http://www.dupont.com.
Media kit available at: http://www.tactotek.com/press-and-media/
This project has received funding from the European Union's Horizon 2020 Research and Innovation Programme under grant agreement No 725076